What do you need to remember when you clean a gravestone?
---
When you clean a gravestone it is important to know the material it is made of. Most gravestones are made of natural stone. So they are often made of granite, marble, or bluestone. A natural stone headstone, such as marble, you cannot clean with acidic products. They affect natural stone.
How to clean a granite headstone or other natural stone gravestones with HG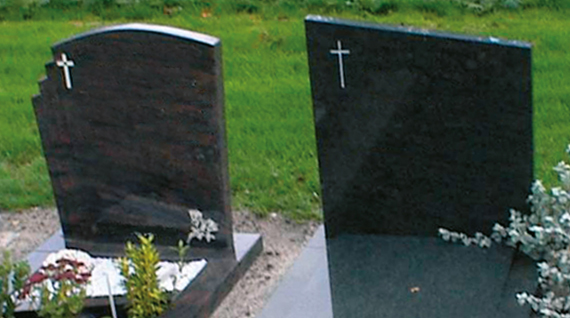 Do you want to clean moss off headstones or other dirt of marble or granite headstones safely? HG headstone cleaner is made specifically for all types of natural-stone gravestones. With our cleaner it is particularly easy to clean old gravestones. HG headstone cleaner removes deposits and dirt without any problems. If you have a glass headstone to clean, use HG glass and mirror cleaner. A monument made of stainless steel can be cleaned with HG stainless-steel cleaner. Be careful if the headstone consists of different materials. It is often not possible to use two different products at the same time.
This is how you use HG headstone cleaner to clean a headstone:
Spray HG headstone cleaning spray onto the gravestone from approximately 5 cm. Be careful with metal letters. You cannot clean those with this product.
The product needs to work for 25 minutes.
If there is still any dirt left behind, remove it with a cloth or a brush.
Rinse off the headstone with plenty of water.
Tips for the best way to clean a marble gravestone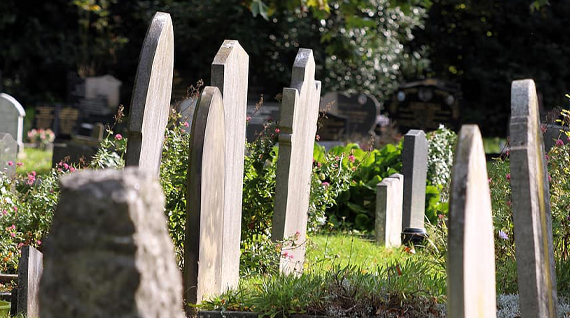 Cleaning a headstone yourself is best done with HG headstone cleaner. You can use other products too. But be sure you know what you're doing. Some common DIY products can actually damage natural stone. We have some tips for the best way to clean marble gravestones. You use these tips at your own risk.
1. Never clean a natural-stone headstone with vinegar
Cleaning vinegar is often recommended as an alternative cleaning agent. But cleaning a natural-stone gravestone with vinegar is an absolute no-no. Vinegar is acidic and will affect the headstone immediately. Unless it has been protected with a coating, but even then it is still better not to clean the headstone with vinegar. The coating will also be affected over time and you end up with stains on the stone.
2. Never clean a natural-stone headstone with bicarbonate of soda
Baking powder is less aggressive than vinegar, but it can still affect natural stone. It is better not to clean the gravestone with soda.
3. You can often clean a headstone with chlorine
For marble, bluestone or white marble and other calciferous stones, you can use chlorine. In that case you can clean the headstone with chlorine. Marble in particular can be cleaned really well with chlorine.
4. Do not leave objects standing on the monument for too long
Objects, such as flower pots, vases and lanterns should not be left on the natural stone for too long. They will leave discolouring over time.
5. Be careful with gravestones where various materials have been used
Does the gravestone consist of various types of metal? Do you have natural stone with metal letters or glass with natural stone? Be careful. Some products you can use to clean natural stone may be harmful to metal and the other way around. You have to be precise.
Action plan for how to clean a gravestone safely
It is often a good idea to be really structured when you clean a headstone. Irrespective of what it is made of. During cleaning, remember to use the right product for the right material.
1. Check the material
Which materials do you have? What type of stone do you have? That will tell you which cleaning product to use.
2. Remove loose dirt
First remove all the loose dirt before you start cleaning the headstone. Use a soft brush or broom to remove sand and leaves.
3. How to clean a gravestone safely
Dirty that is on the headstone itself can be removed with the right cleaning product. For natural stone, you use HG headstone cleaning spray for example. Whatever product you use, if you use it to clean the headstone for the first time, it is a good idea to try it out in an inconspicuous place first.
4. Rinse the headstone
After leaving the product to work, you need to rinse the headstone with plenty of water.
5. Dry the headstone
Dry the headstone with a clean, dry cloth. Preferably lint-free.
If you have a good tip for cleaning headstones, please let us know!
Frequently Asked Questions about the best way to clean gravestones
What do you need to remember when cleaning a gravestone?
You need to be sure of the material the headstone is made of. That determines the most suitable cleaning product.
What can I use to clean a natural headstone, for example marble or granite, and what should I absolutely not use?
Natural stone, such as marble and granite, can be cleaned with chlorine or a special product. Never use vinegar to clean a granite or marble headstone. Or a gravestone of any other type of natural stone. Be careful with bicarbonate of soda too.
Which tips do you have for cleaning gravestones and for keeping them clean?
Do not leave objects on the grave for a long time. They can produce discolouring. Be careful if the headstone consists of different types of materials.
Which HG product do I use to clean a headstone?