How to clean your patio slabs and fencing with HG
---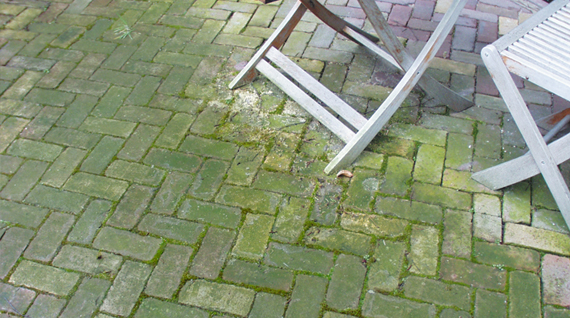 There are a few ways you can remove algae from your green pavers, walls and fencing, some more effective than others. The simplest and most effective way is with HG algae and mould remover. This product can be used on walls, fencing, doors and more. As well as removing algae and mould in just 36 hours, it can also prevent build up recurring for several months afterwards.
HG algae and mould remover is most effective used in dry weather. Try using it during Spring so you can make the most of your algae-free garden during the summer months. We also have a 5 litre bottle available during Spring. You can also try HG patio-tile cleaner, which can clean up to 200 metres worth of tiles, patios, paths, walls and rooftops.
Causes of algae on patios, fencing and more
Green deposits, algae and moss can build up on patios, fencing and walls, in shady areas which don't get a lot of sunlight. This creates moist spots where algae and moss can grow, on concrete, wood and stone. This build up is also more common on soft and irregular surfaces, rather than straight, harder ones.
This build up of algae and moss is also affected by the weather. Due to the higher moisture levels in the air, more rain and less sunlight, build up is more common in Autumn and Winter. Spring is an ideal season for cleaning your patio slabs and fencing. Due to the sunlight and less moisture in the air, it is easier to remove the algae and green deposits. You can then enjoy your algae-free garden for summer.
How to stop your patio going green
Due to the climate in the UK, it is difficult to completely prevent algae and moss building up on your patio and fencing. There are, however, a few ways you can reduce how much green deposits do build up.
Using HG algae and mould remover can help to remove algae and mould in 36 hours. It can also prevent it from reappearing over the next several months.
If installing new fencing or slabbing, opting for impermeable, flatter materials will help to prevent a buildup better than porous, uneven surfaces will. Porous materials allow more air and moisture into them, encouraging a buildup of algae. In general, hardwoods like oak, ash and walnut tend to be more porous. Softer woods like pine, fir and cedar are more impermeable. Sandstone and limestone are examples of porous rocks, whereas slate, marble and granite are examples of impermeable rock.
Having good drainage for your patio can also help to prevent a buildup of moisture. A slightly slanted patio can help with drainage, however, it can be difficult, inconvenient and expensive to make an existing patio slanted. A more realistic option is to use an algae remover, like HG algae and mould remover.
How to remove algae from your patio and fencing
In addition to specially developed products, there are lots of DIY solutions for cleaning patio slabs on various blogs and websites. Note: these methods do not guarantee success:
1. Using a pressure-washer
Using a pressure washer can remove algae for patios, however, it can also remove grout. Grout protects and adds longevity to patio slabs, so if you plan on using a pressure-washer, be sure to be careful not to touch the grout.
A pressure washer can also damage patio tiles, making it more porous. So in the short-term it may clean your patio, but in the long-term it can cause it to become dirtier and encourage even more build up of algae. This means cleaning your patio will be a more frequent and laborious task than before.
2. Cleaning patio slabs with vinegar or chlorine
Using a pressure washer is effective, however, not everyone has one, or wants to buy one. If you want to know how to clean a patio without a pressure washer, vinegar and chlorine are handy and cheaper alternatives.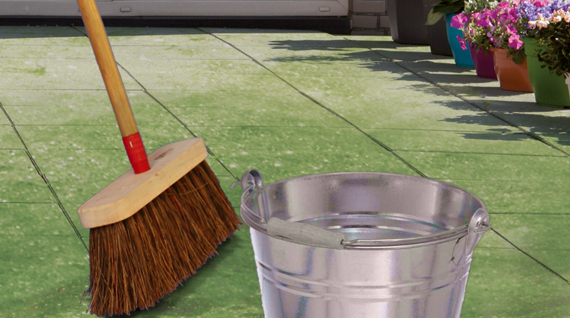 However, these are also harmful to plants, grass and herbs. White vinegar is less damaging, as it is more natural. The acid in white vinegar can also damage natural stone with a high lime content. If you plan on using vinegar or chlorine to clean your patio, we'd recommend trying this in a hidden spot to test its effectiveness first.
3. Mixture of soft soap, soda and hot water

Using a mixture of soft soap, soda and hot water can also remove some algae from wooden surfaces. However, this is time-consuming and involves lots of laborious scrubbing. You'll probably also miss a few spots, which you won't be able to notice until the mixture has dried completely and you need to start again.
HG's products are designed especially for removing algae, without harming your plants or grass. Our products do the hard work so you don't have to. As well as removing algae, you can also see some more tips on how to clean a patio, and how to remove green algae from concrete. Find out more about removing dirt, scrubbing, and products like our HG patio tile cleaner.
If you have any other helpful tips for removing algae and mould from your garden, feel free to let us know.