Prevent dirty car seats
---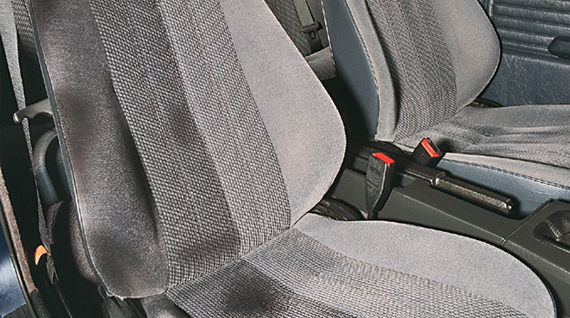 Car seat upholstery can become grimy very quickly. Stains and dirt are extremely visible on light upholstery in particular. Some fabrics attract more dirt than others, so you may need to use a car seat cleaner more often. How to prevent dirty upholstery? We saw the following tips on various websites.
1. Buy covers for your car seats
Car seat covers are excellent protectors for your car seats' original fabric and they are available in all shapes, sizes and colours. The best thing about car seat covers is you can throw them in the washing machine. 
2. Make your car seats dirt repellent
When you apply a dirt-repellent product to your car seats, spilled liquids and dirt cannot penetrate into the fabric, so stains can be prevented. For this you can use HG 4 in 1 protector for textiles or HG 4 in 1 protector for leather.
3. Remove stains immediately
If you do not remove dirt or stains immediately, it can penetrate deeper into the upholstery or the fibres of the car seat fabric. By removing dirt immediately, you also prevent unpleasant odours in your car. 
4. No eating or drinking in the car
Eating and drinking cause the most dirt and stains in the car interior. Stop and take a break instead and enjoy a snack and a drink out of the car. A win-win situation because you also get a chance to get out and stretch your legs.
5. Keep your car clean and tidy
Do not allow your car to become a dumpster and remove any trash you have collected after every trip in the car. This decreases the chance of dirt and stains.
6. Vacuum your car regularly
As far as vacuuming goes, the same applies as for removing stains. If you vacuum regularly, you reduce the chance of dirt and dust penetrating into the car seat fabric.
 
[Consider …]
When it is time to give car seats an extra good cleaning
2 household remedies
According to various (consumer) websites and blogs, there are several household remedies for cleaning your car seats that you can try. We recommend always vacuuming first to remove as much dust and dirt as possible from your car seats and car mats.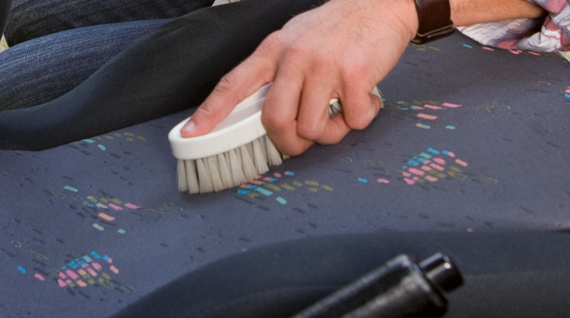 1. Industrial soap
You can use industrial soap as a car seat cleaner to remove stubborn rust and grease stains from your fabric car seats. Then use a brush and some water to brush away spots while doing your inside car cleaning. 
2. Washing-up liquid with water
Mix washing-up liquid with water and pour it into a spray bottle. Hold the bottle approximately 20 centimetres above the stain and spray the mixture on the stain.. Brush the fabric carefully with a soft brush. Then rinse with warm water and rub with a clean cloth. Remember to rinse out the cloth several times. To avoid any colour variations, we recommend that you clean each seat completely all in one go.
Did this car interior cleaning method not dive the results you had hoped for? Then try the various car seat cleaner solutions from HG developed especially for car interior cleaning.


Choose the HG car upholstery cleaner
HG car upholstery cleaner was developed especially for removing stains and cleaning dirty upholstery and interior of your car, caravan or boat. After use, this car seat cleaner also creates a dirt-repellent layer that protects your car seat fabric from stains.


Do you have a good tip for cleaning car seat upholstery? Let us know!