HG carpet cleaning solutions
---
At HG, we have a number of carpet cleaning solutions suitable for different uses, such as removing stains or for a deep clean.
HG carpet cleaner can thoroughly clean and remove dirt from carpet and other fabric materials. This deep carpet cleaning product can easily and effectively clean your carpet. It also fills uneven fibre surfaces with a dirt-repellent layer, to prevent dirt from returning quickly.
Walking on a synthetic carpet damages the fibres, which means they retain dirt more easily. Woollen carpets can also slowly lose their natural wool grease, making it easier for a build up of dirt. HG carpet cleaner solves this problem by filling uneven surfaces with a water-repellent layer. You can use this carpet cleaning product by hand or with any type of carpet cleaning machine, like a steam cleaner.
For large carpet stains, we recommend HG stain remover. This spray removes stains and dirt easily and also creates a dirt-repellent layer. For especially stubborn carpet stains, such as coffee, wine, grease or chocolate, we recommend HG stain remover extra strong.
How to use HG carpet & upholstery cleaner:
Firstly, you can use HG stain remover to remove tough stains
Machine cleaning: spray on the HG carpet cleaner and hoover it up immediately. You can also repeat the treatment for heavily soiled areas.
Usage by hand: Use a soft brush or sponge to rub in the solution, then rub it again using a clean cloth or towel.
Dry afterwards with a cloth or towel.
Best ways to clean a carpet and remove stains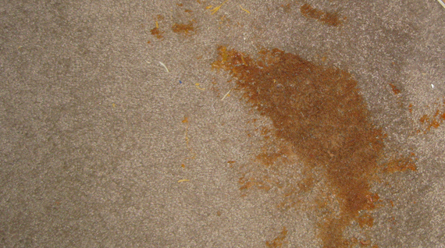 Using an effective carpet cleaner like HG carpet cleaner is the easiest and most effective way to clean a carpet. As well as this, hoovering regularly can keep your carpet looking clean and free of dust.
There are also a few home remedies you can try to remove stains, which you can see in the below section. 
4 tips on how to get stains out of a carpet
In addition to the special products from HG, you can also try one of the many carpet cleaning tips mentioned on other websites. We made a list of a few of the best ways to clean a carpet at home.
1. Sparkling mineral water
Sparkling mineral water can help to clean your carpet, as it contains carbon dioxide gas. Put some sparkling mineral water in a spray bottle, then spray it onto the stain and rub clean with a dry cloth. This carpet cleaning method is most effective on fresh stains.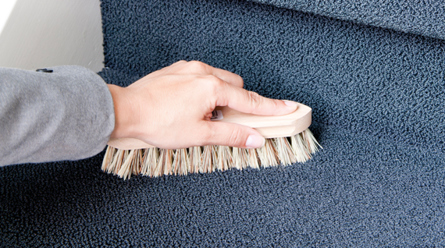 2 . Soft soap
Dab soft soap onto any stains in the carpet. You can then wipe away with a wet cloth and repeat if necessary.
3. Shaving cream 
Another carpet cleaning method you can try is shaving cream. Spray a layer of shaving cream on the stain on the carpet and rub it in well; and don't forget in between the fibres. Then remove the shaving cream by dabbing the carpet with hot water and a towel.
4. Soda
Sprinkle some baking soda on the carpet and leave it to work overnight. Don't be stingy! You can then vacuum up the baking soda the next day to see if it's disappeared.
Would you rather use specially developed cleaning products for your carpet cleaning? Then try one of the carpet cleaning products from HG.
Why is my carpet not clean after hoovering?
Approximately 90% of stains are caused by daily use, like from dirty shoes and spillages. Dirt and hair can also buildup in carpet fibres from your pets.
Taking off your shoes can reduce the amount of dirt walked into your home, however dust and dirt will still collect in your carpet. Hoovering can help remove dust, however it is not so effective at removing live dust mites and stains. For this, you should try using HG carpet cleaner, either by hand or with a steam cleaner. You should also be sure to hoover your carpet well before using a steam cleaner.
Do you have a good tip for carpet cleaning? Let us know!
Frequently Asked Questions about cleaning carpets
Can I deep clean my carpet myself?
You can deep clean your carpet yourself. You should start by hoovering your carpet to remove dust. Then, you can use a home remedy, like soda water, or a specially formulated carpet stain remover to remove stains and dust mites.
What products are best for cleaning carpets?
The best products for cleaning carpets are powerful, remove stains and prevent dirt from building up again straight away. Take a look at HG carpet cleaner to find out more.
How often should I clean my carpet?
How often you should clean your carpet can depend on how many people and pets live in your home, as this can affect how quickly dirt builds up. You should aim to hoover your carpet weekly to get rid of dust, and you should deep clean your carpet every few months, or whenever it gets dirty or stained.