Why should I polish my steel surfaces?
---
Stainless steel is a durable material. It has a protective coating that makes it durable, but that does not make it maintenance free. Steel is used in the kitchen in particular. This material is used in pans, ovens, taps and other kitchen equipment, utensils and appliances. It is very sensitive to stains. Your steel hob will have food remnants after cooking.
If this remaining dirt is not removed, it produces persistent stains. Water or oil splashes also leave traces on steel. If they are not cleaned, they leave visible marks. Fortunately, it is easy to make sure that steel surfaces stay beautiful.
3 DIY products for cleaning stainless steel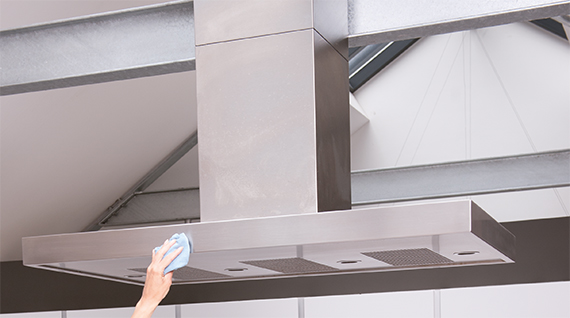 HG stainless-steel cleaner is an effective product for cleaning steel.  Mild cleaners and cloths can also keep steel shiny. We collected the 3 most common DIY products.
1. Polish stainless steel with oil
Apply a drop of olive oil, baby oil or vegetable oil on a cloth and use it to wipe off the steel. With this method your steel surface will become shiny again. We do not recommend this method. Dirt on steel in the kitchen generally consists of grease splashes. Polishing grease with grease makes steel shine, but it doesn't make it clean.
2. Clean stainless steel with glass cleaner
It is effective to remove dirt and grease with grease-removing products. Glass cleaner is a product that works well. Spray glass cleaner onto the steel and then polish it gently with a soft cloth. Polish the surface dry to prevent streaks.
3. Clean stainless steel with a microfibre cloth
Remove dirt and grease with a microfibre cloth. These cloths retain dirt and moisture. Wipe with the lines of the steel, otherwise you continue to see streaks. Avoid using materials, such as a scouring sponge or steel wool. Hard scrubbing and scouring damages the protective coating of the steel. It also produces a great chance of scratches.
HG stainless steel cleaner: the solution for cleaning and polishing steel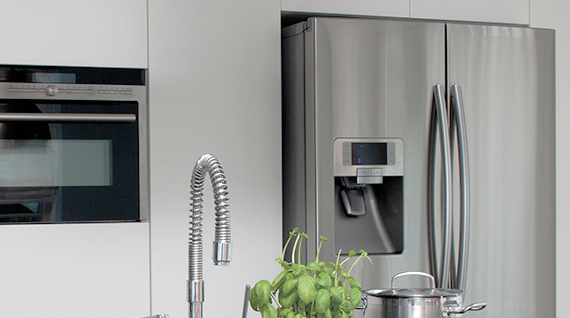 HG developed HG stainless-steel cleaner specifically for cleaning steel. This stainless-steel cleaner is intended specifically for cleaning those surfaces. This professional cleaner removes grease, dirt and fingerprints from steel, chrome and aluminium effectively. This product produces a streak-free result. Ideal for use on hobs, cooker hoods and other kitchen equipment and appliances. After the treatment this cleaner produces an invisible protective layer that ensures new dirt is easier to remove.
This is how you use HG stainless-steel cleaner:
Spray an even mist from a distance of approximately 20cm onto the surface or apply the cleaner by spraying it onto a soft clean cloth.
Clean the surface. Polish the cleaner with a soft, clean cloth or tissue.
The result is a streak-free clean steel surface.

Make sure that the cleaner is not used on surfaces that come into direct contact with food products. Use HG stainless steel protector for a stronger and deeper shine.
4 tips for keeping stainless steel beautiful and shiny
Steel surfaces require regular maintenance. How often depends on their exposure to dirt and grease. For example, you will clean a hob more often than a steel cooker hood. Keep steel clean with these 3 tips:  
1. Remove dirt immediately
Dirt and grease are easy to remove at an early stage. Dirt that is left a long time becomes persistent stains. Remove dirt and grease immediately from steel surfaces. It reduces the chance of the protective coating being affected by dirt.
2. Avoid hard scrubbing and scouring
Did persistent dirt become absorbed into the steel surface? Don't scrub or scour the stain manually with different materials. A stain is better than damaging the protective coating.
3. Avoid aggressive cleaning products
Do not use aggressive cleaning products for cleaning steel. For example, never use bleach. It affects the protective coating, which causes stains and the steel will start to rust.
4. Use HG stainless-steel protector.
Let stainless steel shine like new with HG stainless steel protector. Stainless steel protector is easy to apply and provides a fabulous shine for weeks on end.
Frequently Asked Questions about how to clean stainless steel
Why clean stainless steel?
Stainless steel is a durable material that stays beautiful when it is maintained properly. Regular cleaning prevents persistent dirt, deposits and streaks, which ensures it stays in good condition for longer.
What are the cleaning products for stainless steel?
You can try to clean steel surfaces with various DIY products, such as oil or cloths. If you don't achieve the required result, you can use products that have been developed specifically for cleaning steel, such as HG stainless-steel cleaner.
How do I polish stainless steel?
Steel stays beautiful and shiny when it is maintained properly. You achieve this by removing dirt and grease and by not using aggressive products or scouring agents.