How to clean a fabric sofa with HG
---
HG carpet cleaner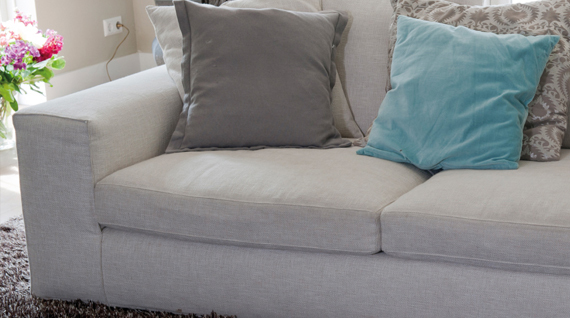 is not just a carpet cleaner, it is also extremely suitable for cleaning your fabric sofa. HG carpet cleaner thoroughly removes dirt from all upholstery. Besides cleaning the upholstered sofa, it also produces a dirt-repellent effect.
Do you already have a stain on your sofa? Clean your settee first with HG stain remover extra strong. This spray is the best way to clean a fabric sofa and removes even the most stubborn stains.
Complete the following steps to clean your sofa with HG carpet cleaner. 
If necessary, treat any (water) stains first with HG stain remover extra strong.
Use a soft brush or sponge to rub in and then dry off with a towel.
Dry afterwards with a terrycloth towel.
4 DIY tips for cleaning a fabric sofa
With HG carpet cleaner it is easy to clean your fabric couch. Once it's clean, your sofa is also protected against dirt. Would you like to try something else first? There are various alternative products when you want to know how to clean a fabric sofa naturally. We have listed four of them for you.
1. Clean your sofa with soft household soap
Soft household soap is a mild cleaning agent. Prepare a mixture of warm water and soft household soap. Use it to remove the stains from the sofa. Remember to remove the soap properly and dry the sofa afterwards. Otherwise you may be left with streaks. We also recommend you only clean your sofa with soft household soap if you have stains. Soft household soap can attract dirt too. That is why it is less suitable for freshening up the entire sofa.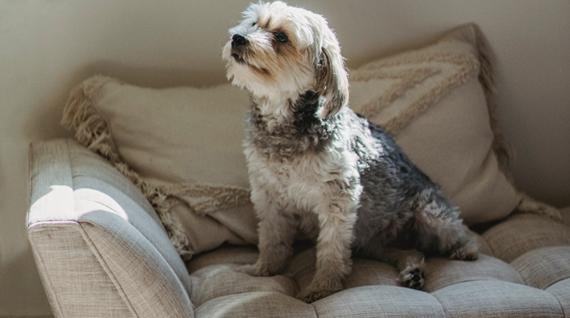 2. How to clean a fabric couch with baking soda
Baking soda is commonly used for stains. With a few spoonfuls of soda in a bucket of hot water, you quickly have a mixture. Clean your sofa by wiping it off with a sponge. Dry the sofa properly. Soda is particularly good for freshening up, but less suitable for removing stains.
3. How to clean a fabric sofa with vinegar
An upholstered sofa can start to smell musty over time. In that case you can clean your sofa with cleaning (white) vinegar. This is most convenient with a plant spray. Fill it with half vinegar and half water. Spray the sofa and leave it to absorb for a little while. 
4. How to clean your fabric sofa at home with a steam cleaner
This is an expensive solution, but if you have a steam cleaner you can use it too clean your upholstered sofa. You could hire one too. The benefit is that you clean and remove dirty smells from the sofa.
If the above tips do not work well or not well enough, use HG carpet cleaner, if necessary together with HG stain remover extra strong. Your sofa will look as good as new.


If you have a good tip for cleaning your fabric sofa, please let us know!
Frequently Asked Questions about cleaning a fabric couch
How do I clean an upholstered sofa?
You can remove stains from a sofa with:
soft household soap
baking soda
vinegar
steam cleaner
Which HG product do I use to clean my fabric sofa?