Why do we clean fabric chairs?
---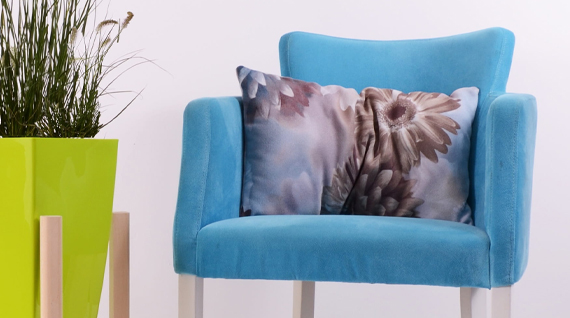 Dining chairs in particular regularly end up with stains. But armchairs do not escape the odd accident either. Fabric is a comfortable material, but quickly absorbs liquids. And stains.

In those situations you need to get there as soon as possible. Dried-in stains are usually more difficult to remove than fresh ones.

Nevertheless, we have tips on how to deep clean fabric chairs with stubborn stains too.
How to deep clean fabric chairs with HG
HG stain remover extra strong removes the most difficult stains in a flash. It makes light work of cleaning fabric chairs. This spray removes even the most stubborn stains. 


This is how to clean fabric chairs with HG stain remover extra strong:
Spray the stains completely with HG stain remover extra strong. Leave it to work for a few minutes.
Take a clean and absorbent cloth. For example a hand towel and wipe up the loose dirt.
How to clean fabric kitchen chairs with 6 DIY products
The easiest way to clean fabric chairs or a fabric couch is to use HG remover spray extra strong. Do you want to clean your fabric chairs with different products? There are various DIY products you can try. Their effect is not always guaranteed. 
1. Clean fabric chairs with shaving foam
Shaving foam is a convenient alternative for steam cleaning fabric chairs. Just spray the foam on the stain. Leave to work for 10 minutes. Then use a soft brush to brush away the shaving foam and the stain. Brush in one direction only. 
2. Clean a fabric chair with shampoo
Shampoo is another common product from the bathroom that you can use to clean fabric chairs. Apply the shampoo undiluted to the stain. Rub in the shampoo with a damp cloth until it starts to foam. Use a dry cloth to remove the shampoo.
3. Clean upholstered chairs with baking soda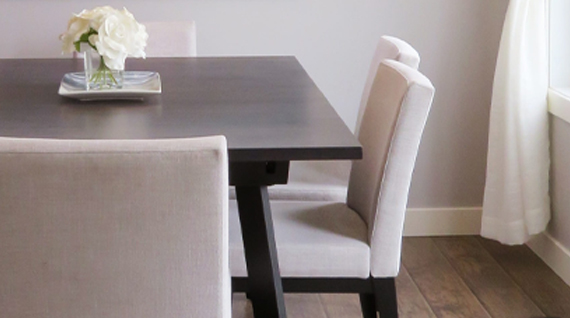 Baking soda is commonly used for stains. Put a few scoops of soda in a bucket of hot water. You can also use liquid soda. Use the mixture to clean your upholstered chairs by wiping them off with a sponge. Then dry the chair properly. Soda is particularly good for freshening up the chair. It is less effective against stubborn stains.
4. Cleaning fabric chairs with vinegar
A fabric chair can start to smell musty. In that case you can clean your fabric chair with cleaning vinegar. Fill a plant spray with half cleaning vinegar and half water. Spray it on the chairs and leave it to work for a few hours. 
5. Steam cleaning fabric chairs 
You can use a steam cleaner to clean your fabric chairs. It is an expensive solution, as steam cleaners are not cheap. You could hire one too. Remember to check that the fabric of your chair is suitable for steam cleaning. The benefit of steam cleaning is that you clean your fabric chairs and get rid of nasty smells at the same time.
6. Clean your fabric chair with soft household soap
You can also use soft household soap to clean your fabric chairs. Make a mixture with soap and lukewarm or warm water to clean your chairs. Rub it onto the stains with clean cotton cloth. Remember to remove the soap properly and to dry the chair afterwards. Otherwise you may be left with streaks. Use soft household soap only to remove stains. Not to freshen up the fabric chairs. 
If you have a good tip for cleaning your fabric chairs, please let us know!
Frequently Asked Questions about how to clean fabric lounge chairs
How do you clean a fabric chair?
You can remove stains from a fabric chair with:
shaving foam
shampoo
baking soda
Cleaning vinegar
Which HG product do I use to clean my fabric chairs?