5 tips for preventing a dirty microwave
---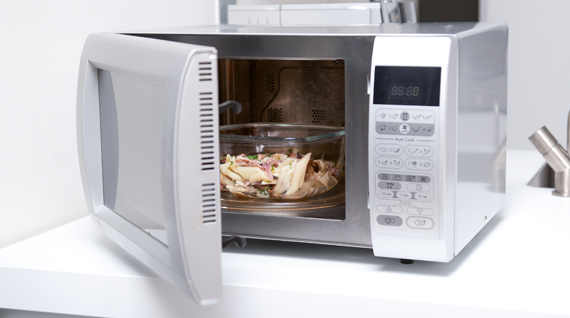 The microwave is of course ideal for warming up food. But if used often, it can get very dirty and not work as well as it should.So of course you want to prevent your microwave from getting dirty, so you have the least amount of work and prevent microwave smells. When food is heated up in the microwave it can spatter against the walls and stick to the inside of the microwave. Use a microwave-safe lid to prevent this. The tips below will help you keep your clean microwave even cleaner.
1. Use a microwave-safe lid
As we said before, you can use a microwave-safe lid to prevent spattering. 
 
2. Note the duration
To maintain a clean microwave and avoid excessive spattering, pay close attention to the time when heating up food.

3. Heat on a low setting
For example, it is best to heat up peas, sausages, carrots or corn at a low setting. Stirring a couple of times will help heat up the food more gradually, which will help prevent spattering.  If the heated food does spatter, we recommend cleaning the microwave immediately before the food has time to get caked on.


[Consider …]
Dirty and smelly microwave causes
As described above, a dirty and smelly microwave is mainly caused by food spatters when it is heated at too high a temperature. Or spills when food is placed in or taken out of the microwave. Grease and food remains become caked on, making it very difficult to clean the microwave. Therefore, the best way to clean your microwave is frequently, so you will avoid long, hard scrubbing to get rid of microwave smells. 


How to clean the microwave
4 ways to clean the microwave
Volgens diverse websites en blogs zijn verschillende middelen die u kunt uitproberen voor het reinigen van de magnetron.
1. Ammonia
Use ammonia to clean your microwave. Fill a small bowl with water and a small amount of ammonia and place it in the centre of the microwave.  Run the microwave for 10 minutes at 800 watts. Then wipe the microwave clean with a cloth. The disadvantage is that the ammonia smell can remain in your microwave and even penetrate into your food.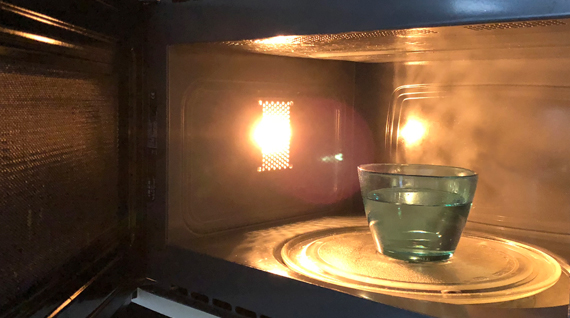 2. Lemon juice
Fill a small bowl with water and add some lemon juice. Run the microwave for 5 minutes at the highest setting. The caked-on food will eventually come loose and you can remove it. Lemon also provides a fresh scent. 


3. Soda
Some people also recommend soda as a cleaning agent for the microwave. If you want to try this, put a small bowl of water with 2 tablespoons of soda in the microwave.

Run the microwave for about 5 minutes at the highest setting and then simply wipe away the grime.
4. Dishwasher tablet
If the solutions above do not work, then you can always try using a dishwasher tablet. Here you also need a small bowl of water to put the dishwasher tablet in. Then run the microwave for 5 minutes and wipe it clean with a cleaning cloth afterwards. 
Have you tried the tips above on how to clean the microwave and had little or no success? Then try the HG solution developed especially for the easiest, most effective and best way to clean the microwave.


HG is thé solution for a clean microwave
Want to clean your combination microwave quickly and effectively? HG microwave cleaner easily removes grease and caked-on food in microwaves and combination microwaves. This handy and powerful spray cleaner is safe to use on all materials in the microwave.


Do you have a good tip for getting a clean microwave? Let us know!