Tips to prevent having to clean your washing machine
---
Your washing machine probably looks clean. But you still need to deep clean your washing machine occasionally, because after every wash a bit of limescale, soap and dirt remain in the washing machine.

HG service engineer for washing machines and dishwashers prevents build up in hard to see and hard to reach areas, such as filters, floats and drainage pipes. And this means a longer lifespan for your washing machine. If you do not clean out your washing machine, problems such as the following can gradually occur:
Wash does not get clean
Programme takes too long
Machine does not heat properly
Machine continues to pump water or even a defective heating element
HG service engineer ensures that the rubber seals in your washing machine remain flexible and watertight so that there is no leakage, defect or short circuiting.


Get started with cleaning your washing machine
We found 2 household solutions on blogs for cleaning the washing machine
According to blogs, there are a few DIY methods for cleaning your washing machine and keeping it clean.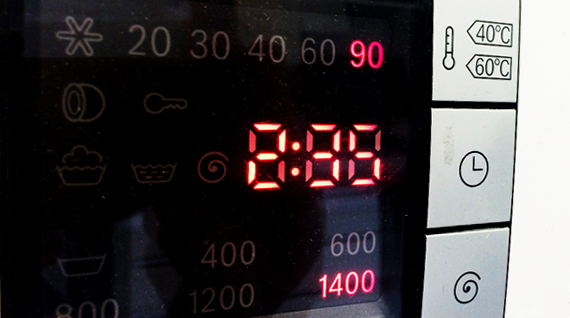 1. Hottest setting 
Some blogs say you can descale and deep clean your washing machine by occasionally running it at 90 degrees. This has a softening effect. While cleaning the inside of the washing machine, you can also put a dishwashing tablet in the drum for even more deep cleaning.
2. Vinegar
You can try using vinegar to descale your washing machine. Clean out your washing machine by running it empty at 60 degrees.
Have you tried the tips above on how to deep clean your washing machine and had little or no success? Then try the various solutions from HG developed especially for washing machine cleaning.
 
HG solution for cleaning the washing machine
HG has asolution for cleaning the washing machine. The HG service engineer for washing machines and dishwashers is mainly for preventing problems with the washing machine. It thoroughly cleans the parts that are not visible so problems are prevented and your washing machine will keep running smoothly.
 
Why clean the washing machine regularly?
Grease and soap build up is one of the reasons you need to clean out your washing machine regularly. Skin grease, soap and skin cells and other dirt can clump together to form blockages. This can cause your laundry to smell less fresh.


Washing at a low temperature
Many people now wash at lower temperatures so the washing machine does not always get hot enough to dissolve all of the detergent. This can cause grease to form in the washing machine and in turn, stains on your clothing. It is important to run your washing machine at a higher temperature once in awhile, for example, when washing bed linen or towels. This ensures that detergent dissolves completely. And be careful not to use too much detergent. Certainly when washing at low temperatures as this can eventually cause problems with your washing machine.


Do you have a good tip for cleaning the washing machine? Let us know!