The most common causes of cement residues and how to prevent them
---
Cured cement is often difficult to remove. Prevention is better than the cure. Cement and mortar residues are often produced whilst doing jobs. A bucket falls over or the cement drops from the tools. This produces major stains. Small splashes don't look good either. 
Efflorescence is a thin film of grout that can stay behind on wall or floor tiles. It forms a film over the tiles and produces a haze. The longer you wait with cleaning a new tile floor or wall, the more difficult the tile mortar removal is.
How to remove cement from tiles: 2 DIY tips
Various tips are shared on the internet on how to remove cement residue from tiles. HG has a selected a number on your behalf. You can try to use these to remove cement or mortar residues. 
Remember, these are DIY tips. Use these products with caution and test them in advance. If you want to remove cement stains  safely and effectively and strengthen your grout at the same time, use HG tile cement grout and mortar remover.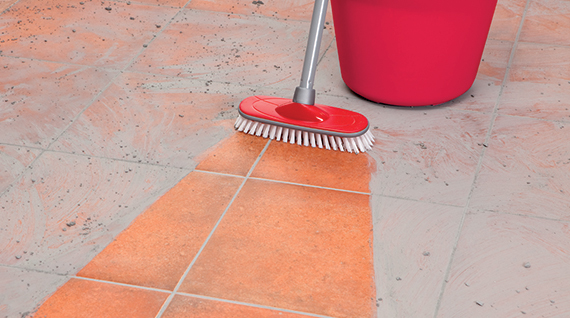 1. Remove cement stains or mortar with vinegar
Cement on a floor dissolves in acid, so that's why you can use vinegar. Be very careful with calciferous stone types, such as marble. Marble can be affected by acid. Silicone edges, in the bathroom for example, can also be damaged by vinegar.
Try to remove the cement stains or mortar residue with one part vinegar and one part warm water. Then you brush this solution onto the surface. Leave to absorb and then rinse with clean water.
2. Remove cement stains with sandpaper or a scraper
Depending on the type of surface, you can remove cement stains and mortar stains with sandpaper or a scraper. It is not possible to remove cement from bricks or other rough stones with sandpaper, but you can treat wood or other surfaces with sandpaper. Really smooth surfaces, such as bathroom tiles or mirrors, are treated with a scraper.
HG tile cement grout and mortar remover to remove cement stains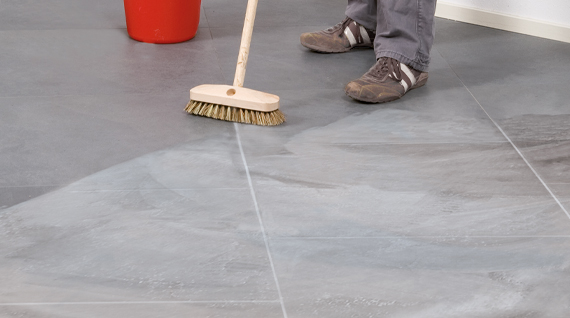 Products, such as vinegar, sandpaper or a scraper, are convenient as an emergency solution but they are not always terribly effective. They can also damage the surface. With HG tile cement grout and mortar remover you remove cement stains quickly, safely and effectively. The cement is dissolved, but the cement from the grouting remains intact and is even strengthened.
The product removes efflorescence and mortar stains from porous and non-porous ceramic tiles and flagstone and is also suitable for non-calciferous natural stone. Including Norwegian slate, granite and quartzite. 
HG tile cement grout and mortar remover cannot be used for calciferous natural stone, such as marble, travertine, bluestone, various types of slate and concrete tiles or concrete floors. For those you need HG natural stone cement grout film remover.
This is how you use HG tile cement grout and mortar remover to remove cement stains and mortar residues:
First clean the surface that requires treatment with clean water.
Dissolve half a litre of HG tile cement grout and mortar remover in 5 litres of water.
Then apply the solution liberally with a mop or floor cloth.
Scrub the stains with a scrubbing brush or stiff broom.
Leave to absorb for a few minutes and then scrub properly once more.
Then mop up the solution and wring out the mop regularly.
Mop the floor thoroughly with clean water another 2 or 3 times.

For more intensive cement or mortar residues, a stronger solution can be made of 1 litre of this product to 4 litres of water. For more information about this product, visit the product page: HG tile cement grout and mortar remover. Besides this product for removing stubborn cement and mortar residues safely, the HG range for tile floors also contains many different products for the optimum care of your floor. To find out which HG products you need to protect and nourish your tile floor in the best possible way, consult our Problem to Solution for Ceramic tiles.
How do I avoid cement stains after grouting?
To prevent cement or mortar stains, you can put down a plastic sheet whilst you work. Ideal for floors, stairs or gardens. Make sure you always have enough room to work. That way you prevent cement from falling over or you tripping over.
Frequently Asked Questions about removing cement stains