Step-by-step wallpaper removal tips
---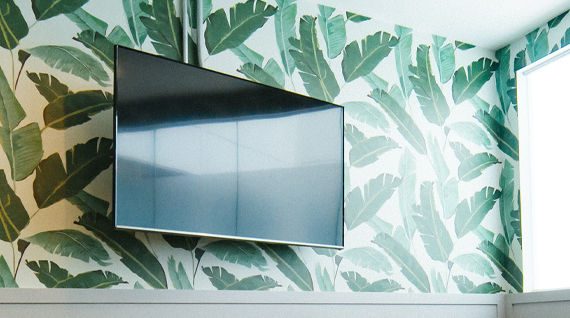 The best way to remove wallpaper in the shortest amount of time? Follow these steps for the best wallpaper removal results! 
Preparation
Make sure to cover power outlets or switches and sand washable, water-repellent, vinyl or metal wallpaper in advance using coarse sandpaper. Remove the top layer of strippable wallpaper in advance!


Soaking off the wallpaper
When you start soaking off the wallpaper, it might help to apply a wallpaper removal solution, e.g. HG wallpaper remover, with a spray bottle or pump sprayer. If you do not have one to hand, you can also use a sponge or block brush. It is important to thoroughly moisten the wallpaper, so don't be stingy with water. Leave the wallpaper stripping solution to work for 5 to 15 minutes.
 
Removing wallpaper
Look for a starting point and peel off a corner. This can be done with a wallpaper stripping knife or putty knife. Then try to remove the wallpaper in one fluid motion.
Other wallpaper removal solutions
In addition to renting specialised equipment, you can find lots of DIY tips on how to take off wallpaper on the Internet. Here are a few of them.
Steamer
Steamers can be rented from specialised rental firms or DIY shops. These usually cost around €15 to €20 per day, and that does not include power consumption.
Read the instructions carefully before using a steamer.

In general, all you have to do is fill the device with water and wait until the water is heated to the correct temperature. Then you just hold the steamer against the wallpaper until it starts to come loose.

When it loosens, you can use a putty knife or stripping knife to carefully peel off the wallpaper. It is best to start at the top and work your way down. A disadvantage of using a steamer is that everything gets damp. We therefore recommend placing drop cloths on the floor to prevent the moisture from penetrating the floor.


Washing-up liquid or vinegar
Other products recommended by some websites for the best way to remove wallpaper are washing-up liquid and vinegar. Even cola is sometimes mentioned!  Fill a bucket with hot water and add a generous amount of washing-up liquid, vinegar or cola. Then soak a paint roller in this mixture.

Use the paint roller to dampen the wallpaper and then simply peel it off. We have not tested this method ourselves, but why not give it a try?


The HG wallpaper removal solution
HG wallpaper remover is the perfect product for removing wallpaper, such as nonwoven wallpaper. This product quickly dissolves all types of wallpaper glue and ensures that the wallpaper comes off in complete strips. Furthermore, this product is not only highly concentrated and super strong, it also goes a long way. Half a litre is sufficient for removing 100m2 to 200m2 of wallpaper.


Common problems when removing wallpaper
Several problems can arise when you are removing wallpaper. Keep these in mind to prevent problems as much as possible.
Small bits tearing off
Keep the wallpaper damp at all times. This will make peeling easy and prevent bits of wallpaper from tearing off.


Wet clothes and furniture
Especially when using a steamer or a water-based mixture to remove wallpaper, your clothes can get quite wet. Tie a towel or piece of cloth around your lower arm to absorb the water. And, as we mentioned above, it is best to cover your floor to prevent water damage. And don't forget your furniture! Move furniture out of the room to prevent damage from water or dirt. 


Remove all the glue residue
In addition to the wallpaper itself, make sure you also remove any glue residue. Otherwise this residue may show through your new layer of wallpaper.


Do you have a good tip on how to remove wallpaper? Let us know!