How to remove ugly glue residues
---
Did you get ugly glue residues on your floor during DIY or do you have annoying bits of sticker stuck to your new dinner service? Sometimes rubbing with a cloth and water only seems to make it worse. With the following tips you know how to deal with this and other similar problems!
Remove glue residues from the floor or the stairs
You removed your carpet, but the floor or stairs are not yet ready for a new carpet or rug. First you need to remove the old glue residues from the floor or the stairs. How do you remove this sticky residue from the carpet? There are various DIY tips. We discuss the best tips on our tip page. The tip you use depends on the type of adhesive and the surface. Concrete is treated differently to wood and stairs differently to a large space. If you are looking for a convenient all-in-one solution, you choose HG floor glue remover. With our HG product, you can remove the glue residues from your carpet conveniently and in an environmentally friendly way. 
Read more about removing carpet, rug and adhesive residues on our tip page.
Remove tile adhesive easily
Would you like to retile your floor? You have to start byremoving the old tile adhesive, otherwise the new tiles don't lie properly. Removing tile adhesive from tiles or residues of tile adhesive from your wall can be quite a job. You can try to remove the glue residues with DIY tips, or you can even start scraping. With the right tips and products it is easier to remove adhesive residues quickly and conveniently. Our HG floor glue remover is environmentally friendly and suitable for various surfaces. This floor glue remover removes carpet adhesive, but also linoleum, resin, parquet, cork, tile, wall and carpet adhesives, as well as compound and assembly sealant. 
Read more about our HG floor glue remover on our product page.
How to remove sticker glue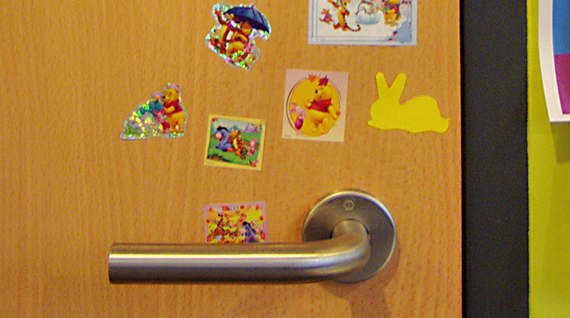 These days stickers are everywhere. The sticker glue becomes stronger by the day. Stickers on products are used to stop shoplifting, to mark cars or for decoration. Removing sticker glue is often difficult. The stickers tear and sticker and glue residues stay behind on the surface. How to remove sticker glue? There are a number of DIY products for removing adhesive stickers. Some solutions work reasonably well, others do more harm than good. Do you want to dissolve sticker glue effectively? You should use a suitable product, such as our HG sticker remover. This product is safe, quick and effective.
More information about how to remove sticker glue can be found on our tip page.
How to remove wallpaper glue effectively
Wallpapering your walls is a fun job. Your room will look like new! However, removing wallpaper glue from the wall is often a tricky, but necessary job. To wallpaper the room again, the walls need to be smooth. You can remove wallpaper glue residue in various ways.
We wrote a special tip page about how to remove wallpaper glue from the wall. This is where you find common problems and how to prevent them. We also provide a step-by-step guide on the best way to remove wallpaper. There are also a number of DIY tips for removing wallpaper glue. Finally, we discuss which HG product is best for removing wallpaper glue residue quickly and without mess.
View the tips for removing wallpaper glue.
How to remove stickers from clothing
Stickers on clothing may be difficult to remove and may produce stains after you did manage to remove the sticker. Unfortunately it is not possible to remove stickers from clothing in a normal laundry cycle. Removing other glue from clothing is also not possible in the washing machine. You need a special product to remove stickers from clothing. For sticker stains and other stains, we developed HG stain away no. 2. This stain remover was developed specifically for stains on fabrics. HG stain away no. 2 is an effective product for stains and marks caused by stickers, marker pens, grease, oil, shoe polish and other lubricants, edible oils, deep-fat frying oil and even tippex. This product is multifunctional, safe and easy to use.
Read more about HG stain away no. 2 on our product page.
DIY methods for removing glue residues
Of course there are all sorts of products that have been developed specifically for removing glue and glue residues quickly and properly, including HG sticker remover or HG floor glue remover.
If you start looking around on internet, you come across plenty of so-called DIY methods, including peanut butter, toothpaste or nail polish remover. We collected a number of those methods for you;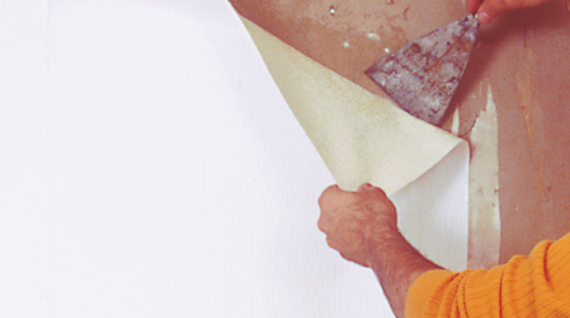 Water with washing-up liquid
According to some people, water with a little washing-up liquid can be enough to remove small amounts of glue without any difficulties. For example the glue residues of a label on a glass jar. Besides washing-up liquid, you can also use bicarbonate of soda. Make a mixture of bicarbonate of soda and water and leave it to absorb into the glue residue. After that it should be easy to rub it off. 
Nail polish remover
Put a small amount of nail polish remover on a sponge and rub firmly onto the sticker glue residues. Leave it to absorb for a little while and then wipe off with a damp cloth. 
Cleaning vinegar
Use a brush or a cloth to put a little cleaning vinegar onto the glue residue. Leave the product to absorb. After a few minutes, you rinse the vinegar away with water, and then you should be able to remove the glue residues.
HG has the solution for removing glue residues
With HG sticker remover it is easy to remove adhesive stickers, sticker glue, and more from nearly any surface. If you have glue residues on the floor after you have lifted a carpet? In that case HG floor glue remover is the perfect solution. This product removes the most stubborn glue and adhesive residues from nearly all surfaces. This extra strong and super-fast acting glue remover is suitable for all types of glue, including carpet adhesive and resinous glue, but also for assembly sealant. 
Do you wish to strip wallpaper? It is easiest with our HG wallpaper remover. Tricky stains on fabrics, such as stains caused by felt tip pen, stickers, grease, oil, shoe polish, but also edible oils, deep-fat frying oil, lubricants and tippex are easy to remove with our HG stain away no. 2.
Frequently Asked Questions about how to remove adhesives