Causes of a blocked dishwasher
---
A blocked dishwasher is usually caused by scale, grease, food and soap residues. They can stay behind every time you use the dishwasher. When the dishwasher becomes blocked, the water no longer drains away. A blocked dishwasher often switches off automatically. But it can still cause a leak. You can prevent a blocked dishwasher by cleaning it regularly. Read our tips for cleaning your dishwasher. Is your dishwasher blocked? Read more to see how you can unblock your dishwasher.
Easy way to unblock a dishwasher with HG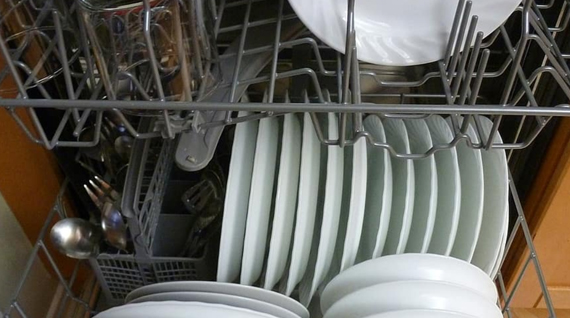 HG kitchen drain and plug unblocker is intended specifically for blockages in the kitchen and deals with grease and bits of food. It can also be used to unblock the dishwasher drain. Unblocking the dishwasher was never this easy. 
This is how you use HG kitchen drain and plug unblocker to unclog the dishwasher:
Let some lukewarm water run into the blocked dishwasher before the treatment.
Pour 300 ml of HG kitchen drain and plug unblocker down the drain.
Now pour down the same amount of lukewarm water in order to activate the enzymes and microbes in the unblocker.
Leave the drain unblocker liquid to do its job for 6 to 8 hours, preferably overnight, before running water down the drain again.
How to unclog a dishwasher with other products
It is easy to unblock the dishwasher with HG kitchen drain and plug unblocker. You can unblock the dishwasher with other products. We would like to share 2. We cannot guarantee they work. You use these tips at your own risk.
1. Unblock a dishwasher with bicarb
You can dissolve food and grease residues with bicarbonate soda. Sprinkle the soda in the blocked drain of the dishwasher. Pour a litre of hot boiling water and leave the bicarb to work for 30 minutes. Rinse with hot water and check that the dishwasher drains again.
2. Unclog a dishwasher drain with baking soda and vinegar
When it is mainly scale that causes your dishwasher to clog up, you can also use vinegar with a cup of baking soda. Add soda to the dishwasher and add a bottle of cleaning vinegar too. This will start to foam. Leave this to work for at least 1 hour and rinse with a litre of boiling water.
Blocked dishwasher drain hose: complete these steps
When the dishwasher is blocked, you can unblock it manually. When other products don't work, we recommend you check that there isn't something else that's wrong. For example a pump that no longer works, or a piece of glass or something else that blocks the dishwasher. You unblock a blocked dishwasher manually with the following steps:
Remove the filter unit first. Scoop out the remaining water. 
Uncover the pump. This is different in every dishwasher so before you perform this step, check the manual of your dishwasher.
Check the pump and remove dirt and anything else. Be careful, there may be pieces of glass. Wear gloves. 
Rinse the pump lid and clean the filter unit and put them back.
Check whether the hose is blocked by loosening it and using a long piece of wire to poke through the hose. That can be really difficult if you have an integrated dishwasher. If you suspect it's the hose and you think about how to unblock the dishwasher hose, but you cannot reach it? Time to call an expert.  
Then test whether it worked by running a dishwasher programme.
If you have a good tip for dealing with blocked dishwashers, please let us know!
Frequently Asked Questions about how to unblock a dishwasher
What blocks up a dishwasher?
The dishwasher becomes blocked by scale, food and soap residues. You can prevent this by cleaning the dishwasher regularly.
How can I unblock the dishwasher?
Is your dishwasher blocked? You can unblock a dishwasher with:
Just bicarbonate soda
Baking soda and vinegar when there is also a lot of scale
How can I unblock the dishwasher manually?
Other products don't work? Check manually why the dishwasher is blocked: 
Remove the filter unit
Uncover the pump
Check the pump
Check the hose
Test
Which HG product do I use for a blocked dishwasher?