This is what makes chrome taps dull
---
Chrome is beautiful. It makes the bathroom just that little bit more beautiful. The downside of chrome is that it quickly becomes dull. It also damages easily, because it is very soft. That is a great shame, because dull chrome removes the shine from your bathroom and other rooms.
Chrome becomes dull with scale or dirt. Scale on chrome comes from using water. It cannot be avoided, but it can be solved.
Dirt on chrome consists of bits of bath products or skin flakes. That cannot be avoided either, but it is easy to solve by cleaning your chrome taps and tap heads. You enjoy a shiny surface again.
Cleaning a tap with DIY products
Can you clean taps with products you already have at home? You can! HG selected tips for a number of DIY products you can use to clean a tap head.
Be careful when you use DIY products. These products have not been developed specifically for cleaning taps. You clean your chrome taps safely and effectively with a combination of HG bath shine and HG scale away foam spray.
Try and clean your tap with the following DIY tips: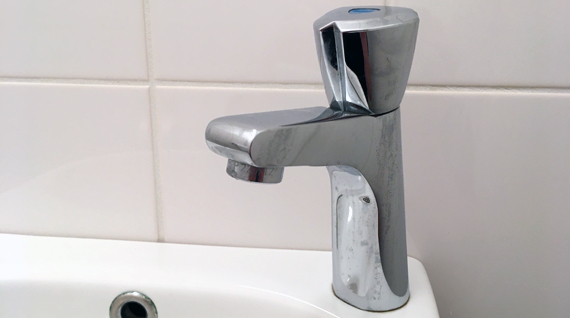 1. Clean a chrome tap with washing-up liquid
Washing-up liquid is a grease remover. In some cases, you can use it to clean chrome surfaces. Mix some washing-up liquid and warm water. Clean the chrome surface with a soft cloth or sponge. Now rinse and dry the surface. That is how you prevent new build-up.
2. Clean chrome bathroom fixtures with vinegar
Vinegar can work as a scale remover. Do you have scale on chrome surfaces or a shower head? Remove the scale with vinegar. Use one part warm water and one part vinegar. Clean the surface with the mixture. Rinse after use to prevent streaks and drop marks.
3. Clean a tap with a microfibre cloth
If the chrome surface is not too dirty, you can polish it with a microfibre cloth. You can also do that after cleaning with washing-up liquid or vinegar. Polish the surface with a dry and clean microfibre cloth. Press gently in circular motions. Make sure the cloth is clean. If the cloth is dirty, it may cause scratches.
Would you like to clean a tap effectively? Let it shine with HG bath shine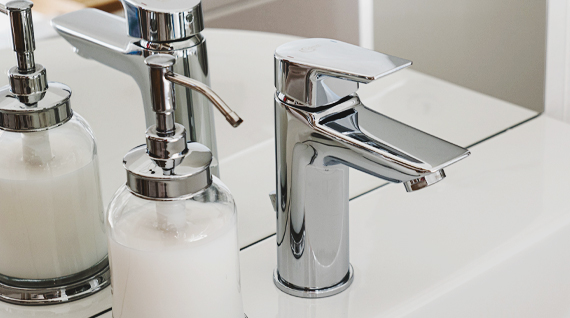 Remove scale with HG scale away foam spray and make your chrome taps shine again with HG bath shine.
With HG scale away foam spray it is easy and safe to remove scale from the soft surface of your bathroom faucet. Spray the foam spray on the chrome surface and leave it to work for maximum 5 minutes. You can find more information about HG scale away foam spray on the product page.
Make your tap shine like new with HG bath shine. The product has a fresh fragrance and removes soap residues, skin grease, and minor limescale from your taps. Our cleaner does not produce streaks and prevents scale if you use it regularly. HG bath shine is safe for the chrome in your bathroom, because it does not contain scouring agents or aggressive components.
This is how you use HG bath shine to clean the tap:
Put a few drops of HG bath shine on a damp sponge and clean the tap thoroughly
Wipe off the tap with a damp cloth.

Use HG bath shine to clean your sink, bath tub, toilet pan and the tiles. Add it to some water and make your entire bathroom sparkle. Would you like more information about HG bath shine? Read more about it on the product page.
Frequently Asked Questions about cleaning chrome taps
My chrome tap is dull, how do I clean it?
You can clean chrome taps with various DIY products. Vinegar, washing-up liquid or a microfibre cloth. If this does not have the required result, use HG bath shine or HG scale away foam spray.
Which HG products can I use to clean my chrome tap?
For a scale-free tap, you use HG scale away foam spray. Would you like to have a shiny tap and prevent scale? Clean your tap with HG bath shine.
What is chrome made of?
Chrome is a soft stainless steel metal. Chrome is used for taps, shower heads and all the shiny parts of a car or a motorbike.