Tip
Best tips on how to get rid of black mould in your bathroom
Mould in the bathroom is a common issue. As well as affecting the appearance of your bathroom, it can also cause odours and even be dangerous if you inhale it. Our tips on prevention, cleaning and products can make sure your bathroom stays mould-free.
What causes black mould in the bathroom?
---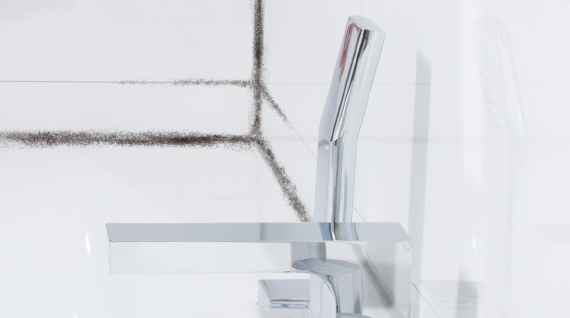 Typically, mould can grow in bathrooms due to the high humidity and moisture levels. Whether running hot water from the bath, shower or sink, the steam generated from the heat causes condensation on walls, ceilings and tiling. Mould is also common in other damp areas of the home, like the kitchen, cellar and sheds. If your bathroom is poorly ventilated, mould is more common.
Once the hot steam from water sets on your bathroom walls and ceiling, it can drip down once it begins to cool down, affecting tiles, grout and windows.


How to remove mould in your bathroom with HG
There are various HG mould removing products available for effectively removing mould from your bathroom, as well as other parts of the home. 
HG mould spray is a quick and effective spray for mould removal. This product can be used to remove all types of mould and stains, including black mould. 
You can also see our HG mould remover foam spray. This product uses a unique foaming action, which means the solution remains in place longer to prevent mould from reoccurring. This product is also almost odour-free, and doesn't splash when it is sprayed.
Mould, damp or weather stains often appear on the silicon seal between the bathtub and the tiled wall, in the shower cubicle or on plaster. Both HG mould removers are the perfect and easy solution.
2 tips to prevent mould in your bathroom
Once you get rid of mould in your bathroom, it can quickly grow back. There are a few simple ways you can prevent this. Read below to find out more.
1. Warm up the bathroom before showering or using the bath
Condensation occurs when warm air meets cold surfaces. If you heat your bathroom before showering or bathing, the warm air produced from hot water will cause less condensation due to the bathroom walls and ceiling being warmer.
If you have a radiator in your bathroom, we'd recommend turning it on before you use the bath or shower. This is especially important in colder weather. During the warmer months, you may not need to use the radiator at all, if the walls and ceiling are already warm.
2. Make sure the bathroom is well ventilated
Ventilation is also key to ensuring your bathroom remains mould-free. This helps to get rid of the moisture caused by hot water, which reduces condensation and mould. You can have bathroom fans installed in your bathrooms, or even use a dehumidifier. Opening the window also helps air out the bathroom, although this is not as effective.
Effective bathroom mould removal
Black mould can occur on your bathroom ceiling, walls and shower. Here are the best tips for how you can remove mould from these places.
Mould on bathroom ceiling
Before removing mould from your bathroom ceiling, we'd recommend wearing gloves and a face mask to avoid coming into direct contact with the mould.
Next, spray HG mould spray onto the ceiling from 3-5cm away. Be careful to use too much, as this could mean some of the spray could drip into your eyes. Leave the solution to set for 30 minutes, then wipe it clean using a sponge and warm water. 
Mould on bathroom walls
When removing black mould from your bathroom walls, follow the same process as for the ceiling. Apply HG mould spray onto the wall from 3-5cm away and leave it to set for 30 minutes. Then, wipe the formula and mould clear using a warm, wet sponge.
If you have tiling for your bathroom walls, the mould can be more difficult to remove than on painted walls. Follow the steps as above. After waiting 30 minutes, wipe it clean using an old toothbrush or something similar, rather than a sponge. Clearing mould from the tiling is easy enough, however, it is mould sticks to grout more firmly than it does tiles and walls.
Black mould in the shower
Removing mould from your shower can also be tricky. The shower isn't as flat a surface as your bathroom walls and ceiling, so this may require more time to clear the mould completely.
Start by spraying HG mould spray onto the shower head, neck and taps, and leave it to set for 30 minutes. Then, using a wet sponge, wipe the solution clear to remove the mould. If your shower has a coiled neck, this may take longer to remove the mould. Due to the ridges in a coiled shower neck, it can be difficult to remove the mould. Just keep scrubbing using a sponge or toothbrush and you will be able to clear the mould eventually.
3 DIY tips for removing mould in the bathroom
As well as using HG's mould removal products, you can try some other home remedies and tips for removing mould from your bathroom.
1. Baking Soda
Baking soda is a versatile and effective home remedy for cleaning various parts of the home, including when used to remove bathroom mould. Dissolve 6 grams of baking soda in 1 litre of hot water and pour the mixture over the black mould in the bathroom. You can also use a brush to wipe the mould clean, or simply rinse using clean water.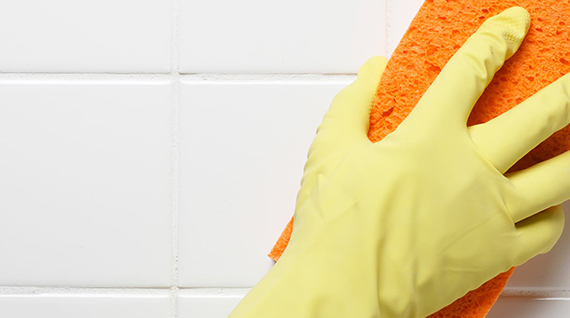 2. Vinegar
Vinegar is another versatile household cleaning remedy, which can be used for removing mould from your bathroom. Apply it undiluted, using a cloth or sponge. Then, leave it to set for a short time and rinse well using warm water.
3. Diluted bleach
Another effective mould cleaning remedy, dilute 25ml of bleach with 1 litre of water, then dab the black mould with a saturated sponge. Repeat this method until you get the desired result. However, be sure not to scrub too hard, as this can damage the surface of the wall or ceiling.
There are many ways you can remove and prevent mould from growing in your bathroom. However, the easiest, and most effective way is to use HG mould spray.
If you have any other helpful tips for removing mould from bathrooms, please feel free to let us know!
---
Can you explain why you don't find this tip helpful?
Thank you for your comment.
Interested in HG mould remover foam spray?
Find below a point of sale near you or order online through one of our sales partners.
Enter a location
Enter your city, zip code or address or click on the map to find a store near you.
HG is among others for sale at these stores and web shops:









Recommended product
HG mould remover foam spray
Other tips for Bathroom & Toilet