What causes dirty grout?
---
Grout on bathroom or kitchen floors and in between tiles behind the worktop or hob are particularly susceptible to dirt and grime.

Dirt, grease, dirty water from mopping and moisture all penetrate into the grout. And moisture can also cause limescale or mould to form on the grout.


3 tips for preventing dirty grout
Lots of grout is porous and therefore easily absorbs grease, grime, moisture and limescale. Below a few tips on how to drastically reduce the chance of dirty grout.
1. Protect the grout
If you prevent grease, grime, moisture and limescale from penetrating the grout, then it will not get dirty. Some blogs advise rubbing the grout with a candle to create a water-resistant and dirt-resistant layer. Though applying HG super protector for wall and floor grout is much more effective. This product provides maximum, transparent protection against penetrating oil, grease, grime and moisture, which can lead to limescale.
2. Good ventilation
It is important to ventilate the room well. Moisture penetrates into grout which can also lead to mouldy tiles. Turn on the (mechanical) fan and let it run for some time and leave the bathroom door open regularly. If your bathroom has a window, we advise opening it before (or immediately after) showering so that moisture can escape.
3. Refresh your mopping and cleaning solutions regularly.
If the water you are cleaning or mopping with is dirty, then the grout will get dirty too. Refreshing your mopping and cleaning solutions regularly will prevent unnecessary dirt from these solutions from penetrating the grout.


Tile and grout cleaning tips
In addition to preventing grout from becoming dirty (too quickly) by making it less porous, ensuring good ventilation and refreshing your mopping solution regularly, there will come a time that the grout must be cleaned.  Various websites and blogs give all kinds of household tips on the best ways to clean grout.


4 household tips on how to clean grout
Various websites share some household tips on the best way to clean tile grout. 

1. Bleach and water
Mix bleach and water and use it to scrub the tile grout clean.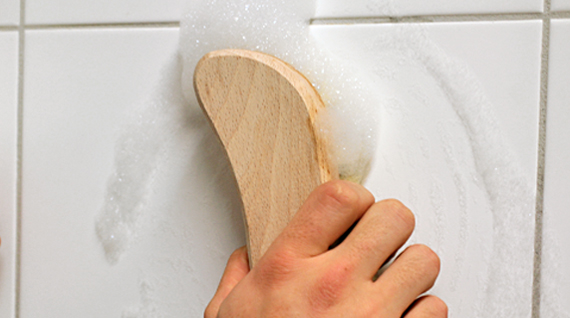 2. Fabric softener and warm water
Another method for cleaning shower grout and other grout in the bathroom is fabric softener and warm water. Use this mixture and a cloth to wipe the grout clean.

3. Water and vinegar
Dampen a mop with a mixture of water and vinegar, mop the grout thoroughly and then dry it with a clean, dry cloth. 

4. Lemon juice, vinegar and soda
In addition to the methods above, you can also use lemon juice. Mix some vinegar, soda and lemon juice and use this mixture to scrub the tiles clean.Still not getting the desired effect? Then try the various solutions from HG developed especially for effective tile and grout cleaning.


Positively clean grout with HG
HG has various products for easy and effective cleaning of grout in tile walls or tile floors, such as HG grout cleaner. This concentrated cleaner is one of the best ways to clean stubborn dirt from grout and walls in your bathroom, toilet, kitchen etc. 1 litre is sufficient for 10 to 15 square metres of wall or floor surface. HG grout cleaner is also available as ready-to-use.

HG grout cleaner ready-to-use does not need to be diluted and it removes stubborn dirt from practically all grout in between tile walls, floor tiles and bricks. The powerful cleaning level of both products is maintained during saturation time and scrubbing, leading to perfect results. Are there still yellow or brown stains after you have finished with the tile and grout cleaning?

That is limescale and we recommend using HG professional limescale remover. For removing black scale on grout in the bathroom, we advise HG mould spray.

Do you have a good tip on how to clean grout? Let us know!