HG window cleaner concentrate: a window cleaner for clean windows without streaks
---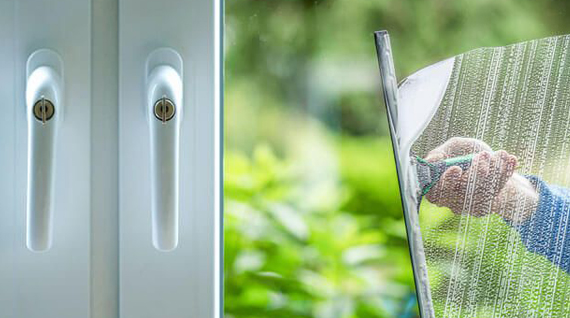 HG window cleaner concentrate is safe, effective and easy to use. You can get even the dirtiest and greasiest windows clean, clear and streak-free. This product is super-concentrated, so you can make the most out of it even using smaller quantities. You should be able to wash the windows of an average-sized home at least 35 times.
HG window cleaner concentrate is also PH neutral, so it won't harm your skin if you touch it. This also means it won't affect your window frames, whether they're wooden, plastic or metal.
How to use HG window cleaner concentrate:
Add 15 ml of HG window cleaner concentrate to half a bucket of lukewarm water.
Wash the windows with circular motions to achieve the best result.
Use a squeegee to dry in overlapping strokes.
Dry the squeegee with a clean cloth after every stroke.

Use undiluted HG window cleaner when your windows are extremely dirty. Apply a small amount of the product to a sponge and dab onto the dirty area. Leave the product to work and then wipe off with water.

You can also use this product undiluted on particularly dirty windows. Just apply a small amount to a sponge and dab onto the dirty area, then leave the product to settle and wipe off using water.
Preventing deposits when window washing
It's impossible to completely prevent dirt from forming on windows. However, cleaning your windows regularly can prevent them from getting too dirty and difficult to clean.
Windows can get dirty on the inside and outside. Dust, grease, smoke, insects and bird droppings are the main causes of dirty windows. We'd recommend cleaning your windows 4 times a year. This will help to prevent deposits from forming on the window panes, similar to limescale which can form in your bathroom and kitchen. Not only is this unsightly, it can be difficult to remove and can damage the paint on the frames.
Fortunately there are products that remove the dirt from your windows and the frames, without leaving streaks on your windows and damaging other surfaces like paint and plastic.
6 tips for cleaning windows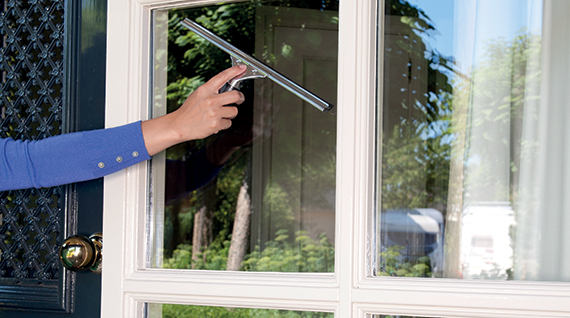 As well as using HG window cleaner concentrate, there are some useful home remedies which can help to give you clear, streakless windows. This will depend on the solution you use, what you use to clean the windows, as well as your cleaning technique.
1. Soapy water
Soapy water can be used to clean your windows, just make sure the water is warm. There are a few other things you can add to the solution to make it more effective and reduce streaks.
One quarter of a raw onion.
A small dash of washing-up liquid to your water, however not too much as this can cause streaks.
A tablespoon of white vinegar to your water, but be careful as this can irritate your skin.
Be sure not to wash your windows with soft household soap, this can cause grease and streaks to form on your windows. Also avoid using dishwasher solutions, methylated spirits and ammonia. These can cause streaks, harm your skin and affect your window frames.
2. Clean your windows using vinegar
Vinegar is another effective window cleaning solution, which breaks down deposits and doesn't leave any streaks. If using vinegar to clean your windows, you should use one part vinegar to 10 parts warm water.
3. Use a clean sponge or mop
Using a mop or a clean sponge, you can soak dirt and grease from your windows after soaking it in the soapy water. Simply soak it, squeeze it then wash the windows from top to bottom. Be sure not to push too hard however to avoid scratching the windows.
You can also use a larger handle or even a telescopic pole to reach higher windows. Ladders and stepladders can also be used, however be sure you use the correct type, and keep it steady on a flat surface.
4. Use a squeegee
Sometimes you can have the perfect solution for cleaning your windows, however if your squeegee is no good, you can still get streaks. Use a good-quality squeegee with rubber, which can glide smoothly and evenly over your windows to prevent streaks from forming.
5. Drying your windows
When it comes to drying your windows, there's a specific way to reduce streaks. Dry them using an s-shaped movement if you're right-handed. If you're left-handed, this should be more z-shaped.
Put the right tip of the squeegee against the window frame on the left at ¾ of the window, and create a 45-degree angle with the squeegee.
Pull the right tip of the squeegee in one fluid motion to the top left corner
Pull the squeegee to the top right corner.
Pull the squeegee down and in this movement, turn it 90 degrees so that the right tip ends up in the right bottom corner.
6. Avoid cleaning in the sun
When you clean in direct sunlight, this can cause the water to dry too quickly, which causes streaks to form. We'd recommend cleaning when it's overcast, or even in the rain. Rain water is natural so won't cause any streaks or stains.
7. How to clean your window frames
Once you have cleaned and dried your windows, you can do the same to your windows frames. Soak a sponge in the soapy water and squeeze so it doesn't drip. This stops excess moisture from going onto the window. You can then wipe your frames clean.
If you've tried using home remedies like soapy water and vinegar which haven't done the trick, you should try using HG for clear, streakless windows.
Frequently Asked Questions about window cleaning
How often should I clean my windows?
You should clean your windows atleast four times a year. This way you can avoid persistent deposits from forming on the glass window and window frames.
How do I clean windows without streaks?
When cleaning your windows, make sure you use warm soapy water, without too much solution. Wipe the windows using a good-quality sponge and dry by wiping in an s-shaped movement. Also avoid washing your windows in direct sunlight, as this causes streaks to appear when drying.
Which HG product do I use to wash windows?
You can use HG window cleaner concentrate for a professional result without streaks. The product cleans intensively, degreases the windows and it does not leave any streaks. It is also PH neutral, meaning it won't affect your window frames or irritate your skin. HG window cleaner is also economical. You'll be able to wash your windows at least 35 times in an average sized home.