Best tips on how to clean glasses
---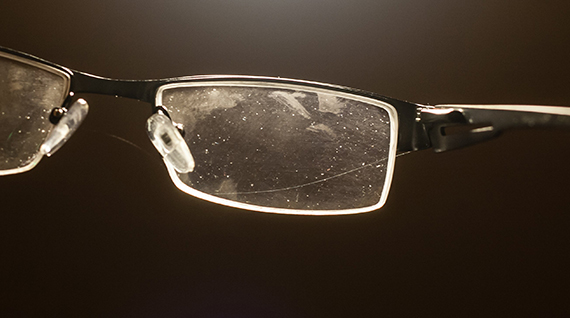 Cleaning your spectacles regularly prevents scratches and other damages so they will last longer. The following tips will help you keep your glasses in tiptop condition;
1. Lay your glasses on their arms and clean daily
Never lay your spectacles glass-side down. Rinse your glasses off with clean water every day to prevent skin grease and acids from getting into the frame and damaging the coating on the glasses. 

2. Do not wear your glasses when styling your hair
Still need to style your hair? Do not wear your glasses when using hairspray, gel or mousse; this can leave a greasy layer on the frame or the glass. 

3. A hot car
Never leave your glasses in a very hot car; this can cause damage to the frame and the glass. 
4. Store your glasses in a spectacle case
Store your glasses in a spectacle case when you are not wearing them to protect them from dust and damages.


A few tips on how to clean glasses
One of the best ways to clean glasses is with HG glasses cleaner. Do not have this to hand? Try an eyeglass cleaning cloth or lukewarm water. Be careful with other products, such as facial tissues. More on this later.


HG cleans and degreases your glasses
HG glasses cleaner cleans and degreases greasy and dirty eyeglass lenses easily, without damaging the coating. This is not only the best way to clean glasses, it also prevents them from fogging up. HG glasses cleaner is suitable for plastic glasses, magnifying glasses and camera lenses.


Do not have HG to hand?
If you do not have HG glasses cleaner to hand, then the solutions below are also good tips on how to clean your glasses.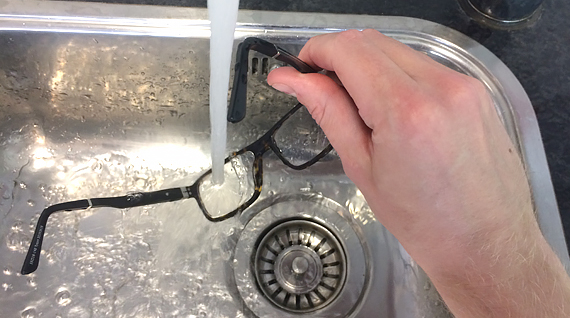 1. Lukewarm running water
Use lukewarm running water to clean your glasses. Make sure the water is not too warm or running too fast as this can damage the coating on your glasses. Use a little bit of washing-up liquid (without lemon!) to clean your glasses and remove grease, then dry them well with a tea towel.  
2. Eyeglass cleaning cloths
After rinsing under the tap, you can also use an eyeglass cleaning cloth to dry off your spectacles. Dry eyeglass cleaning cloths only work well if they are completely clean. Therefore, wash the eyeglass cleaning cloths regularly in the washing machine, without fabric softener, because that makes the cloths greasy so your glasses will not get clean. There are also various moist single-use eyeglass cleaning tissues. But be careful, these can sometimes cause dull glasses and/or scratches. If in doubt, always ask your optician for advice.


What you should never do!
Do not rub your spectacles on your trousers, jumper or blouse. Your clothing is not clean enough for this and it can cause scratches. We also recommend:
Never clean your glasses with a washcloth or paper towel. These contain tiny wood fibres which can cause scratches and other damages.
Never lay your glasses face down.
Do not touch the glass lenses with your fingers while wearing or picking up your spectacles. The grease from your skin can cause spots.
Never use citric acid or other aggressive substances, such as vinegar or ammonia.


How do you prevent dirty spectacles?
Apart from being a bit careful and the abovementioned tips, there is not much you can do to prevent dirty glasses. Spectacles come into contact with skin and hair every day, so they become dirty. And then there is all the dust and dirt from your surroundings.

Do you have a good tip for how to clean glasses? Let us know!