What should you keep in mind when doing spring cleaning?
---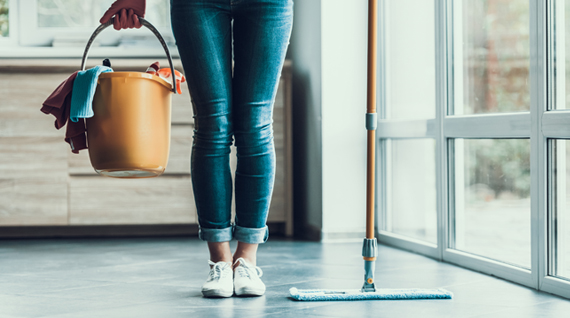 The Spring clean can differ for everyone. It can depend on when you last cleaned certain rooms, how many rooms you have, and whether or not you have a garden. Below are some helpful tips for your Spring clean.
1. Make the spring clean fun
If we're being honest, cleaning isn't the funnest activity. However, there are a few ways you can make it more entertaining. Try playing some music to lighten the mood. Cleaning with others can also pass the time and split the workload. Just be sure everyone knows their roles in advance!
Taking the occasional break, whether it's for some fresh air or a hot drink, helps you to relax and refuel so you can go again.
2. Make a plan 
It's also important to plan your Spring clean appropriately. This makes the process easier and can save you time in the long-run. Many people choose to clean one room at a time which can work well.
Try and work out the order you'll clean each room. For example, you wouldn't clean your kitchen floors before you wipe your counters clean, as debris from the counter can fall onto the clean floor. When it comes to your floors, we have a number of effective flooring cleaning products.
A spring cleaning list can help you to plan your clean, and also give you the mental satisfaction of ticking items off of your list. You can see our tips page for some more cleaning inspiration.
3. Cleaning products
Elbow grease can only get you so far, so choosing the right cleaning products is essential for a quick, easy and effective Spring clean.
First of all, find out which cleaning products you already have before you go shopping. Also read the instructions for each cleaning product, to learn the correct quantities to use and which surfaces you can clean with them. Our HG interior surface cleaner is a versatile cleaning spray which can be used effectively on all kinds of surfaces.
4. Start bright and early
The early bird catches the worm, so start the day with a healthy breakfast and try to start cleaning in the morning. This way you'll be full of energy and can spend your evening relaxing in your spotless home.
5. Airing and tidying the house
Before you get tempted to start mopping, dusting, or hoovering, be sure to clear away any clutter, like cardboard boxes or stray items of clothing. Not only do these get in the way when you're trying to clean, but they can also disrupt you when you're in full flow.
Airing your home when cleaning also helps to get some fresh, Spring air into the house. This can refresh your home and help to prevent of any harsh odours from cleaning products.
Spring cleaning checklist
Whichever order you clean your home will depend on the layout and how many floors you have. If you have a house, you may prefer to start from the top and finish at the bottom. If you have a flat, you may decide to clean all the rooms with carpets first, then move onto the kitchen and bathroom.
We'd recommend finishing one room before starting the next, so you can have the mental satisfaction of ticking this off your checklist. Below are some useful tips for cleaning each room.
Bedrooms
Strip your bed then put your sheets and curtains in the wash, using HG laundry booster for stubborn stain removal.
You can then start to clean your mattress, using HG mattress odour remover. You can also see a few more tips for cleaning your mattress.
Start dusting and wiping furniture and other surfaces, like your wardrobe, drawers and window sills.
Finally, give your floors a good hoover if you have carpet, or if you have wooden or laminate flooring, give them a sweep then mop clean.
Bathroom & toilet
Start by descaling grout from your bathroom tiles and shower head, using HG bathroom cleaner all surfaces.
You can also use this product to wipe your bath and sink clean.
Try using HG drain and plug unblocker if your sink needs unblocking.
Clean your toilet using HG toilet cleaner gel super powerful.
Finish off by sweeping and mopping your floors clean.
The kitchen
First, empty your cupboards of ingredients, pots and pans so you can sweep them clear and give them a polish.
Wipe and polish your kitchen counters.
Defrost the fridge and freezer so you can wipe them clean.
Clean your dishwasher, oven and extractor hood.
Descale your coffee machine, using HG coffee machine descaler.
Finally, give your floors a good sweep and mop.
You can also see some more tips for cleaning your kitchen appliances.
The living room
Start by removing the cushions from the sofa and armchairs so you can remove any stains using HG stain remover extra strong.
Dust and wipe all surfaces, shelving units and furniture.
Give your rug a shake before hoovering it and your flooring.
Finish up by mopping or hoovering your flooring.
Cleaning your windows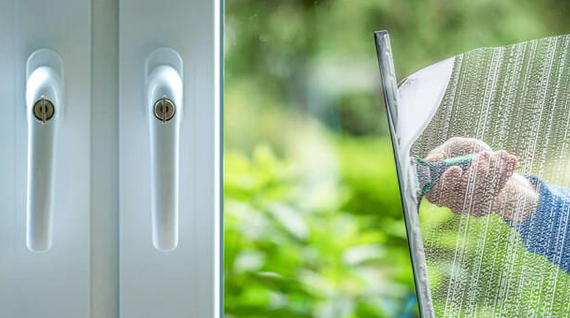 No Spring clean is complete without having crystal clear windows so you can look outside. You may even have a window cleaner who can do this for you. However, you can also easily clean your windows yourself using HG window cleaner concentrate.
We also have some useful tips on how to clean your windows, like cleaning the outside of your windows when the sun isn't shining. This stops your windows from drying too quickly, which causes streaks. You'll also find some useful home remedies, like using washing-up liquid, white vinegar and warm soapy water.
Garden cleaning tips
You can finish off your Spring clean by cleaning your outdoor space, whether this is a garden or balcony. This is arguably the most important part of the Spring clean, as this is where you can enjoy the sunshine and warm weather. You can also see some other tips for cleaning outdoor spaces.
Remove green mould
Green mould tends to build up during Autumn and Winter, when the weather is damp. Your tiles, walls and fence tend to get covered in mould and moss in shady areas.
There are a few ways you can try to remove green deposits. The easiest and most effective way is by using HG algae and mould remover, which not only removes mould but keeps it away for months. You can also try using a high-pressure sprayer, however, this can be expensive and even damage your fencing and patio slabs.
Clean your garden furniture
Even if you store your garden furniture away in the shed over Autumn and Winter, it can still get dirty and dusty. You can usually clean your garden furniture using soapy water, whether it is wooden, plastic or metal. However, we also have some products and helpful tips for cleaning your garden furniture.
Clean your sun awning
Sun awnings are often overlooked when it comes to cleaning your garden, probably because they're usually difficult to clean. However, with HG awning and tent cleaner, the hardest part about cleaning your awning will be taking it down.
You're now all set for your Spring clean. You can also stay on top of cleaning your home and see our other cleaning tips. 
Do you have a good spring cleaning tip? Let us know!
Frequently Asked Questions about Spring Cleaning
What is included in a Spring clean?
A Spring clean is a thorough clean of your entire home, including your bedroom, kitchen, living room and even garden. Rather than just hoovering the floors and polishing surfaces, a Spring clean involves an annual deep clean of your home, including things you wouldn't usually clean as part of your standard routine. This can include everything from your curtains, furniture, fencing and more.
What are the best products to use for a Spring clean?
The best products to use for a Spring clean are powerful, long-lasting and versatile. HG limescale remover foam spray can be used to easily remove limescale from your bathroom and kitchen, however it also helps to prevent limescale from returning.
HG descaler for appliances is a versatile product which can be used to remove limescale from coffe machines, kettles and washing machines. This product is perfect for a Spring clean, because you can clean appliances you regularly use, but don't often need to clean.