What should you keep in mind when doing spring cleaning?
---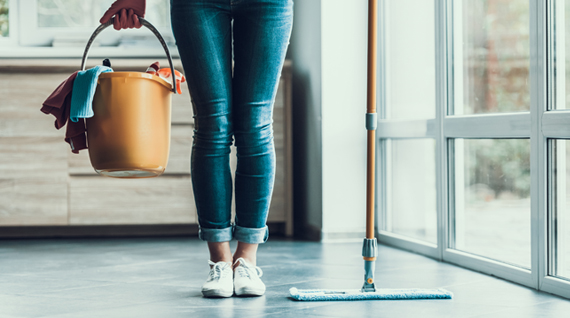 The spring clean is different for everyone. Do you really want to clean? How many rooms does your house have? Do you have a garden or balcony? That's why there is no fixed plan. Nevertheless, there are useful tips and spring cleaning lists to help you do your spring clean efficiently and effectively. We will give you the most important spring cleaning tips:
1. Make the spring clean fun
Let's start with the main point. Cleaning is not everyone's favourite pastime. Therefore, ensure you make it as much fun as possible. Put on some good music. Or share the cleaning with others (but make sure everyone knows who does what). Take the occasional break for tea or coffee and a little treat. And once it's all clean, give yourself a well-deserved reward. As well as a clean house, of course.
2. Make a plan 
Prepare yourself properly. Proper preparations will save you work. Make a plan of what you want to do. Below you will find several "must do's" for good spring cleaning. But of course it's up to you what exactly you want to clean. Make sure you have a realistic plan. Cleaning one room at a time works very well. Need inspiration? You will find tips by category on our tips page. 
It's important that you plan systematically. For example, there is of course no point in vacuum-cleaning first and then removing the crumbs from the sofa. Also make your own spring cleaning checklist. It's very satisfying to be able to keep marking off items.

3. Cleaning products
Find out which cleaning products you already have and which ones you still have to get. Make sure you have all you need before you start. Also, be aware that not every cleaning product is intended for every task. In our tips below we will also give you tips about household cleaning tricks. But with our extensive range of cleaning products, we have a solution for a quick, easy and guaranteed result for any cleaning job.
4. Start bright and early
Make sure you start the day early and that you feel fresh and full of energy. Eat a good breakfast, so that you can start the spring clean full of energy.
5. Airing and tidying the house
We all recognise this scenario: boxes that should have gone to the shed or the loft, but are still lingering somewhere in a corner. Or a stray towel. These are all awkward obstacles when you're cleaning. Therefore make sure that all superfluous items have been neatly tidied away. Also fully open the windows and doors to let some air through.
A checklist for the big house clean
A checklist for the big house clean.
Below are a few tips for the usual - but also often forgotten - jobs during the spring clean by room. It often works well to go from top to bottom. So start in the loft and then move on to a lower floor. In a flat it works better if you start with the bedrooms.
Wash the sheets and the curtains. We have a number of detergent additives for this purpose. Also clean the mattress. We have various  tips for cleaning your mattress, or you can use HG mattress freshener.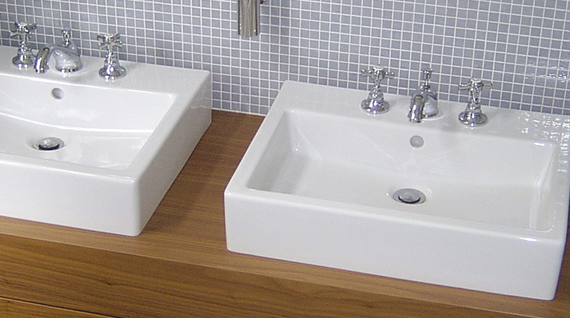 In the bathroom you can do some cleaning jobs you might normally forget about. For example: descaling grout, tiles and shower head. And unblocking pipes if this is necessary. The easiest way to do this is by using  one of our unblockers.
A successful spring clean obviously involves tidying up the kitchen cupboards. But you should also clean your kitchen appliances. For example, defrost the fridge and freezer and clean them. And don't forget the dishwasher and the extractor hood. And descale your coffee machine with, for example HG coffee machine descaler. For more tips, look on our page about kitchen cleaning.
Take all the cushions from the sofa and remove all stains. Do the same with the armchairs. HG has special HG stain remover extra strong for this purpose. It is also a good idea to shake out and clean the rug thoroughly. And of course all the shelving units and tables are cleaned scrupulously.
We leave the floor till last. After vacuum-cleaning the floor, it would be sensible to give it an expert clean. How you do this depends on your type of floor: parquet, laminate or carpets. HG has a solution for each type of floor.
Are you still looking for other tips? Our tips page has many more tips for inspiration for each room.
No spring clean without streakless clean windows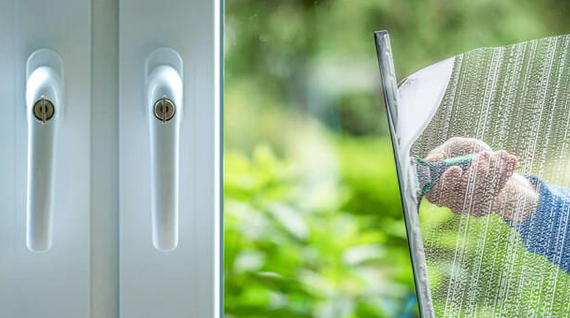 Of course a big clean is not complete without streakless clean windows. This is the perfect time to remove all stains from the glass. Do you have a window cleaner? Of course you can ask them to clean your windows. 
But with our tips you can easily do this yourself. Bear in mind that it's better to clean exterior windows when the sun is not shining. Or when the sun has not yet reached the window. We have listed a number of household tips. You can also do this, for example, with washing-up liquid, white vinegar and warm soapy water. Read more about this in our article about cleaning windows. 
Do you want a guaranteed clean and streakless result? Use HG window cleaner. Your windows will be clean and shiny again.
Balcony or garden cleaning
A true spring clean is not complete unless you also clean your outdoor space. Still, people often forget to do this. And that's a pity, as this is where you want to enjoy the first rays of sunshine. Fortunately we have some good tips for tidying up your balcony or garden. You can then enjoy working in your garden or sitting in the sunshine.
Green mould tends to build up over the autumn and winter. Your tiles, walls and fence will then be covered in that nasty green mould. Of course you can use a high-pressure sprayer. Do you not have one, or do you think it is difficult to use? With HG algae and mould remover you can effectively remove green mould. And the green mould will not return for months.
Clean your garden furniture
Garden furniture also becomes dirty very quickly. Even if you have put them away in the shed. It's therefore a good idea to clean your garden furniture with soapy water. We have a special tips page about cleaning garden furniture. Or use our products developed especially for cleaning wooden or synthetic garden furniture.
Do you have a sun awning? Of course this also gets dirty. Still, we often forget to clean it. This is often a difficult job. With HG awning and tent cleaner this won't take long.
We have more tips for patio cleaning and cleaning your outdoor spaces. Read all our tips for cleaning outdoor spaces. If you follow our tips, you can quickly and efficiently prepare your house and outdoor space for spring. 
Do you have a good spring cleaning tip? Let us know!