HG removes all stains from a sofa
---
HG stain remover extra strong removes the most difficult stains. With this stain spray, even the most deeply absorbed stains present no problem at all. This product is enhanced with active oxygen, so you can remove stains from nearly all types of fabric, including carpets or car upholstery.


HG stain remover extra strong can be used to remove stains from fabric sofas and other materials, like carpets. We also have HG carpet cleaner which is specially developed for removing carpet stains.
We have a wide range of products for removing different kinds of stains, from coffee, show polish, chewing gum and more. Take a look at our other stain removing products to find the right one for you.
Follow the steps below for the correct use of HG stain remover extra strong:
Spray the stains with HG and leave to absorb for a few minutes.
Wipe off the released dirt with a clean, absorbent cloth (e.g. a terrycloth towel or kitchen roll).
Then rub the surface dry.
The result is a stain-free carpet or upholstery.
4 DIY tips for removing sofa stains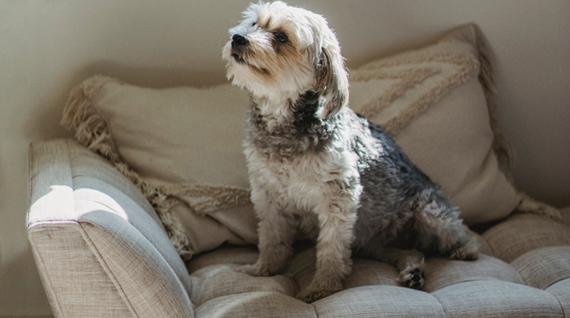 With HG it is easy to remove stains from a sofa. There are also DIY tips on the internet. We would like to share 4. Be careful! These products don't always work. For specific stains it is wise to use a professional HG product.
1. Shampoo
You can remove stains from a sofa or a carpet with shampoo. Apply the shampoo undiluted to the stain, then massage with a damp cloth or sponge.
2. Baking soda
Dissolve a few spoonfuls of baking soda in hot water. Apply this mixture to the stain with a sponge, then dry the spot with a cloth. This method is less suitable for removing an older, absorbed stain.
3. Iron
You can also use an iron to remove some stains from fabric, however be careful with the heat. First, prepare a mixture of hot water and a small amount of detergent. Apply a generous amount onto the stain until it is wet. Leave it to absorb for a few minutes, then put a cloth over the stain and iron this until the spot is dry.
4. Soft household soap
Soft household soap is often used to remove stains. Prepare a mixture of lukewarm water and soft household soap, then use a sponge to scrub the sofa or carpet stain. Then dry the stain with a towel and leave it to air dry.
The above tips only work for removing stains from a fabric sofa. If you have a leather sofa and are looking for a leather sofa stain remover, use HG deep cleaner for leather. If you tried these home remedies and they didn't work, you should try to use HG stain remover extra strong for a guaranteed result. You can also see how to clean a fabric sofa and how to clean leather.
If you have a good tip on how to remove stains from the sofa, please let us know!
Frequently Asked Questions on how to remove stains from a sofa
How can I remove water stains from a fabric sofa?
There are a few home remedies you can try to remove stains from a fabric sofa. These include:
shampoo
baking soda
steam iron
soft household soap
Which HG product do I use to remove stains from a sofa?