How often do you clean a kitchen?
---
That depends of course. How often you need to clean your kitchen depends on how intensively you use it. Do you cook every day? Your kitchen will need more cleaning than when you have a meal delivered most days. There are rules for thumb for normal use.
Make sure that the frequent-use items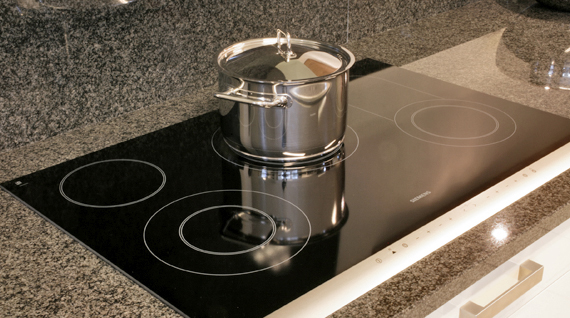 in the kitchen are cleaned every day. Particularly when they have to do with food. For example, clean the sink, the worktop, the cooker and the dining table every day. Just to be sure.
Appliances, kitchen cupboards and the floor need to be wiped at least once a week. The worktop, the oven and the cooker need to be thoroughly cleaned once a week.
Appliances, such as the fridge, the coffee maker, the dishwasher, the oven and the inside of the kitchen cupboards need to be cleaned every month, or at least once every three months. Ideally with special products, such as those from our range for the kitchen.
What do you need to remember when you clean the kitchen?
It's not difficult to clean the kitchen. But keep the following things in mind:
Consider first what you want to clean. Is it quick weekly wipe? Or are you looking at deep cleaning a kitchen? Make a short list, so that you don't do the tiles first and then the grouting.
Tidy the kitchen. Tidy up first. Is used stuff lying around? Is something in the way? That is difficult when you want to clean the kitchen.
It is important to work from the top to the bottom. It's not smart to vacuum and mop the floor first, and then do the worktop.
It is really important to look at the materials and appliances you have in your kitchen. A stone worktop needs to be cleaned differently to a wooden, synthetic or metal worktop. The same applies to the appliances. An air fryer is not the same as a deep-fat fryer and a Nespresso maker needs to be descaled differently than a coffee maker.
HG has everything your need for cleaning your kitchen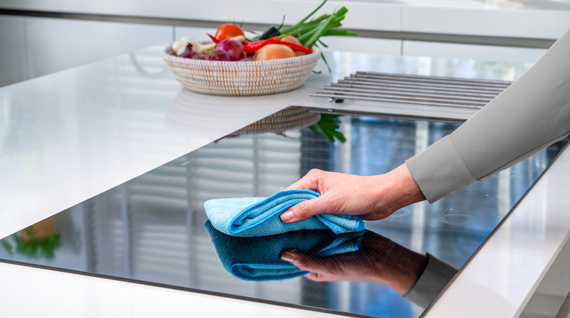 HG has a specific and effective product for every job in the kitchen. For daily wipes, and for deep cleaning or maintaining appliances. We also have different cleaning products for different worktops or floors. So whether you're need to know how to clean high gloss kitchen units or a mat black kitchen, we have a solution for every kitchen. 
Look at our kitchen product page  to see the products you need. We also have kitchen cleaning tips. With HG's products you know it will get done.
Kitchen cleaning schedule
As we've said, what you want to clean depends on your kitchen and your planning. We provide you with a kitchen deep cleaning checklist to get your kitchen completely clean. You can skip a few if you just want to do a weekly wipe. This is how you make a cleaning list for the kitchen. For specific tips for specific jobs, take a look at the relevant tip pages.
Daily
For daily cleaning jobs in the kitchen, you can do the following:
Tidy up the kitchen
Tidy the kitchen. Wash the dirty dishes or put them in the dishwasher. Also tidy up empty bottles or packs.
Wipe
Wipe the worktop, the sink, the cooker and the dining table. Use a clean damp cloth and HG interior surface cleaner for example.
Smells
It is important to remove the nasty smells from the kitchen. You can ventilate the kitchen, but we also have HG air neutraliser for bad odours that neutralises smells. Or read our tips for removing smells from the house. 
Weekly 
It is convenient to do the following jobs weekly.
Clean the worktop
The surfaces where food is prepared need to be cleaned properly and regularly. That produces a clean kitchen and a safe kitchen. We have cleaning hacks, tips and products that help for all those surfaces. Worktop: Read our tips on how to clean a granite worktop Or look at our HG natural stone worktop cleaner. We also have products for wood and synthetic materials
Cleaning the oven & the cooker
The cooker needs to be cleaned thoroughly once a week. For example with HG grease away. Like the cooker, it is also a good idea to clean the oven properly. For example with our HG oven, grill and barbecue cleaner.  Or read our tips on how to clean the oven.
Cleaning the cooker hood
The cooker hood attracts plenty of grease and dirt during cooking. So, it needs to be cleaned regularly. For grease, you can use HG grease away. or you can use HG stainless steel cleaner. or read our tips.  
Kitchen cupboards
It is a good idea to clean out the kitchen cupboards once a week. Like the fridge. It keeps them clear and you're not left with food past the sell by date.
Mop the floor
It is also important to vacuum and mop the floor every week. Consider the type of floor you have. Parquet needs to be cleaned differently than laminate or tiles. We have different tips for different floors. Or go straight to our mop cleaners. 
Monthly or quarterly 
Below are some tips you can use to clean the kitchen once a month. It is a good idea to deep clean the kitchen once a quarter. That includes the daily and the weekly cleaning jobs. Look out for the appliances in particular. They are often forgotten or only cleaned on the outside.
Dishwasher
The dishwasher often looks clean, but nothing could be further from the truth. Components become dirty and can start to smell. Ideally, you clean the dishwasher once a quarter. We have tips for a smelly dishwasher and tips for cleaning your dishwasher properly. Or go straight to HG dishwasher cleaner and odour freshener.Or to deep clean your dishwasher, go to HG washing machine and dishwasher deep clean and service.
How to descale a coffee machine
It is best to descale a coffee machine, Senseo, Nespresso or coffee maker once a quarter. Every machine has its own method. We have tips for descaling your Nespresso, Senseo, espresso machine or coffee machine. We also have a descaler for every type of coffee maker. 
Clean refrigerator
Without a clean fridge, you don't have a clean kitchen. You should clean it regularly. We have tips for cleaning your fridge. Or use HG hygienic fridge cleaner. 
Clean the air fryer or the deep-fat fryer
Do you have an air fryer or a deep-fat fryer? They become dirty very quickly. Often in difficult to reach places. Read our tips for the airfryer or the deep-fat fryer. Or use HG deep-fat fryer cleaner or HG airfryer ® cleaner.
Maintain the kitchen
Besides cleaning the kitchen,  it is important to maintain the kitchen. That is particularly important for appliances. It means they last longer and work longer. Floors and worktops can also be protected with special products. HG has products for the maintenance of your:
Do you have a blocked kitchen sink? Unblock your sink with met HG kitchen drain and plug unblocker. 
Missing a tip? Go the page with all the kitchen cleaning tips. Or to our product page with products for the kitchen. 
If you have a good tip on how to clean the kitchen, please let us know!
Frequently Asked Questions about kitchen cleaning
How often do you need to clean the kitchen?
How often you clean the kitchen depends on your use and on whether it is easy to ventilate. Use our kitchen cleaning checklist to clean the kitchen.
Which HG product do I use to clean the kitchen?
HG has a wide range for cleaning the kitchen. Take a look at our product page.