Why do you need to maintain parquet?
---
A parquet floor is made of wood. That produces a natural authentic look. Wood is strong too. Whatever type of parquet you have, it will have a wooden top coat. Wood can take quite a bit, but it is important to deal with parquet maintenance if you want to keep it looking good. You do need to protect your parquet against scratches. They cannot be removed. Just like stains that absorb into the wood or cracks caused by expansion. In other words, if you maintain your parquet you avoid those sorts of annoying issues and your floor will last longer.
HG for all your parquet maintenance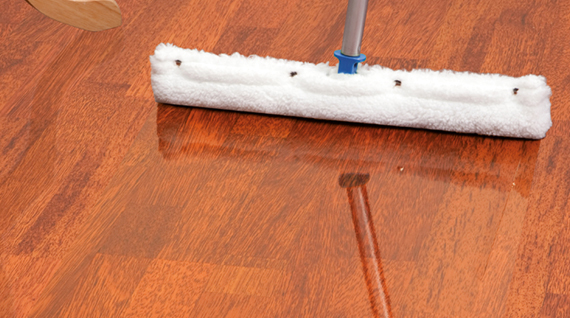 Whatever type of parquet floor you have, HG has a product for every parquet. With our broad range of HG products for floors, you always have the right product for parquet maintenance. 
HG parquet protective coating
HG parquet protector is the perfect basis for parquet maintenance. This easy-to-apply product leaves an extremely thin, but very strong glossy protective coating. Do you want to protect your parquet against scratches without a gloss coat? Use HG parquet protector. Our protective coating is the ideal solution for long-lasting protection that makes parquet maintenance easy. Remember you can only use this on parquet that was varnished.
Complete the following steps to use HG parquet protector:
Preferably apply with a waxer for even application (see the label on the front of this bottle). It is also possible to use a lint-free, clean (tea)towel wrapped around a squeegee.
Pour the liquid undiluted over the floor and then apply evenly in the direction of the wood grain without putting pressure on the waxer or squeegee.
Once the product has dried (after about 60 minutes), a second layer can be applied crosswise onto the first layer.
Advice for parquet floor maintenance
How to maintain wood parquet flooring? A properly maintained parquet floor lasts longer. The easiest way is with HG products. Without professional products it is difficult to maintain your parquet floor. It is also wise to consider the following advice.
1. Take account of the parquet finish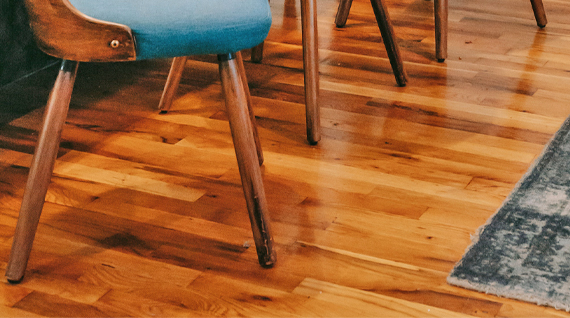 What type of wood is your parquet? Oak and hardwood are stronger than pine. Pine is more susceptible to deep scratches. In other words, it is important to protect pine properly. It also matters whether you varnished, oiled or waxed the floor. Or none of those. If you want parquet that stays beautiful for a long time, it is better to treat it. Untreated parquet wears quicker. A varnished or oiled parquet floor is easier to maintain. If you prefer an untreated floor, be careful and read the tips about scratches further on.
2. Periodic parquet maintenance
If you did treat your parquet, you need to maintain it periodically. For an oiled or waxed floor it is a good idea to maintain it at least once a year with maintenance oil or wax. Maintaining varnished parquet is achieved by polishing it at least twice a year.
3. Regular parquet cleaning
It goes without saying that you need to clean your parquet regularly. We have a number of cleaning products for parquet. Or read our tips for cleaning parquet floors. That will tell you which cleaning products to use or to avoid for parquet.
Tips to prevent damaged parquet
The best thing is of course to prevent your parquet from becoming damaged in the first place. That is when the tips below come in handy. Even when you have treated your parquet. If you prefer to have untreated parquet, it is important to heed this advice.
Put doormats at every outside door to make sure people don't come in with dirty shoes.
Use felt under furniture. Particularly if it is used frequently, like chairs. Clean the felt too and replace it regularly. 
It is better not to put flower pots on the floor. Use coasters. 
Some furniture has castors. For example the piano or a coffee table? Make sure they have soft castors. If you cannot replace the existing castors, put furniture casters under them. 
Make sure there is good humidity and a good indoor climate. Use a hygrometer and a humidifier or a dehumidifier. 
If you have a good tip for parquet maintenance, please let us know!
Frequently Asked Questions about how to treat parquet flooring
Why is it important to maintain your parquet floor?
A parquet floor is made of wood. This may end up with scratches or stains that do not disappear.
How do I maintain my parquet?
The way you clean your parquet depends on the treatment:
Remember the type of finish of the parquet and adjust your maintenance accordingly.
Did you treat your parquet? Maintain it regularly with suitable maintenance products that match the treatment of your floor.
It goes without saying that you need to clean your parquet regularly.
How can I prevent damage to my parquet floor?
You can prevent water damage or other damage with the following measures:
Doormats 
Felt under furniture
No flower pots directly on the floor
Soft wheels under furniture with wheels
Good climate control
Which HG product do I use to maintain my parquet floor?
HG has various products for maintaining your parquet floor: