Tip
How to get rid of limescale: Tips for removing limescale
Limescale often forms in damp rooms, like your bathroom and kitchen. It can be stubborn and difficult to remove without the right products. Whether it's on your taps, showerhead or between your tiles, see HG's useful tips on how to remove limescale.
Why is limescale formed?
---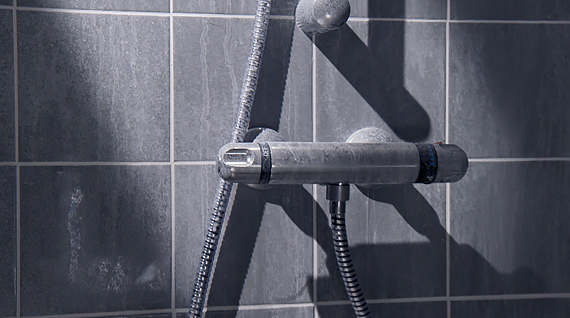 Limescale is formed when calcium and magnesium ions attach to objects in damp rooms, like walls, taps, and showers. Calcium and magnesium are found in water, which is why limescale is common in damp rooms.
Limescale can even form in areas with soft water. This is because the pipes carrying the water to your home may have parts that contain calcium. A natural-occurring process means these calcium particles can be found in your drinking water.
How to clean limescale with HG
HG has several solutions for removing limescale, such as HG limescale remover concentrate. This limescale remover is a strongly concentrated descaler that removes limescale and limestone. You can use this limescale remover for:
bathtubs
toilets
shower walls
shower heads
taps and more
As well as removing limescale, this product can also remove rust stains, uric acid and verdigris. HG limescale remover concentrate is also available, in 500ml and 1L.
HG limescale remover foam spray is great for removing limescale from the toilet, taps and more. This product works more quickly and thoroughly.
All of our limescale removing products can leave you with spotless bathrooms and kitchens, without affecting any other surfaces like chrome, glaze or grout. Our products create a thick foam which not only removes limescale, but helps to keep it away.
In addition to HG scale away foam spray, we also have HG limescale remover foam spray super powerful for removing extremely stubborn scale.


Tips for limescale prevention
Preventing limescale build up can reduce how often you need to clean it. It also makes it easier to clean. The following tips will show you how to prevent limescale.
1. Cleaning products
To prevent limescale from building up in your showerhead, walls and taps, try rinsing the walls with hot water after showering, then dry the shower cubicle. HG bathroom cleaner all surfaces is the number one daily cleaner because it not only removes light limescale but skin grease and soap remains as well.
2. Water softener
You can install a water softener to your water pipes.This water softener also filters calcium, which helps to soften your water. Although effective, this can also be expensive. 
How to remove limescale from taps, tiles and more
Although you can take some measures to prevent some limescale build up, unfortunately, you can't prevent it completely. The type of water in your home will effect limescale. If you have softer water, the limescale won't build up as quickly, so your location in the UK can also effect the rate of limescale build up. At HG, we have various limescale removers depending on which water you have. You can use it to remove limescale from glass, taps, tiles and more.


3 tips to remove limescale
Various blogs have lots of DIY tips for removing limescale on taps and other surfaces. We selected a few of the best ones. 
1. Cola
Surprisingly, cola can be used to remove limescale from your toilet bowl. Simply pour cola in your toilet and leave it overnight. When you flush the next day, some of the limescale will have disappeared.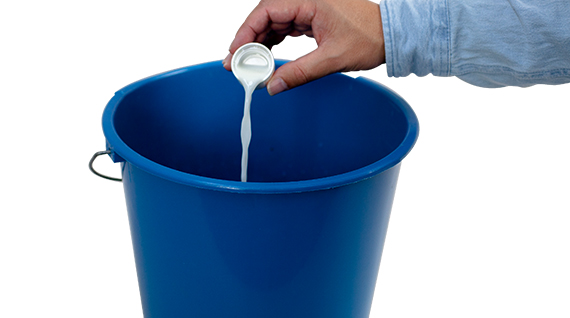 2. Buttermilk
Moisten a tea towel with buttermilk and put it on the area with limescale. Leave it there overnight and you should be able to rinse away the limescale the next day.
3. Fabric softener
You can also use fabric softener to remove limescale from taps and bathroom tiles. Pour a drop of fabric softener in a bucket of warm water and use this to wipe off the tiles. Then, leave it to work for a while and rinse it well with hot water. 
Some of these home remedies are effective when it comes to removing limescale. However, the easiest and most effective method is by using HG. We also have a few more useful tips for removing limescale in your home, like how to remove stubborn limescale and how to get rid of limescale in the bathroom.
Do you have a good tip for getting rid of limescale? Let us know!
Frequently Asked Questions about removing limescale
Is limescale harmful to health?
In small quantities, limescale isn't harmful to your health. This includes whether you inhale it if it is in your shower, or even if you consume it from your drinking water.
Why is limescale a problem?
Although limescale isn't dangerous, it can be unsightly when it builds up on your bathroom or kitchen's interior. It can also restrict waterflow when it forms in your pipes.
How can I remove limescale from the kettle?
 Although limescale isn't dangerous to consume, you may still want to remove it from your kettle. In this case, you can use boiling water, with lemon and household vinegar. Simply boil it, leave to cool and then rinse well. Or use HG descaler for appliances.
---
Can you explain why you don't find this tip helpful?
Thank you for your comment.
Interested in HG limescale remover concentrate (500 ml)?
Find below a point of sale near you or order online through one of our sales partners.
Enter a location
Enter your city, zip code or address or click on the map to find a store near you.
HG is among others for sale at these stores and web shops:








Recommended product
HG limescale remover concentrate (500 ml)
Other tips for Bathroom & Toilet